عذرا، لم تتم ترجمة هذه الصفحة إلى لغتك بعد...
10 Must-See Temples in Siem Reap
Siem Reap's Most Popular Temples
Temples in Siem Reap attract millions of visitors each year, especially those in the expansive Angkor Archaeological Park. Listed as a UNESCO World Heritage site in 1992, there are approximately 50 Buddhist and Hindu temples dating back to the 12th century within its grounds. While most of the structures have collapsed and been covered in greenery, history buffs will delight in the many well-preserved stone carvings as they provide a glimpse of the once-prosperous Khmer empire.
Further away from downtown Siem Reap are other notable Hindu temples, some of which are older than the iconic Angkor Wat. A full-day excursion is highly recommended to explore these sites, but they're well worth the extra effort as you'll get to enjoy breathtaking sights and the tranquil countryside along the way. Before visiting Angkor Wat and other renowned sites in Siem Reap, you're required to purchase an Angkor Pass, which is priced around US$37 for a 1-day pass, US$62 for a 3-day pass, and US$72 for a 7-day pass. Read on for our comprehensive list of Siem Reap's most popular temples.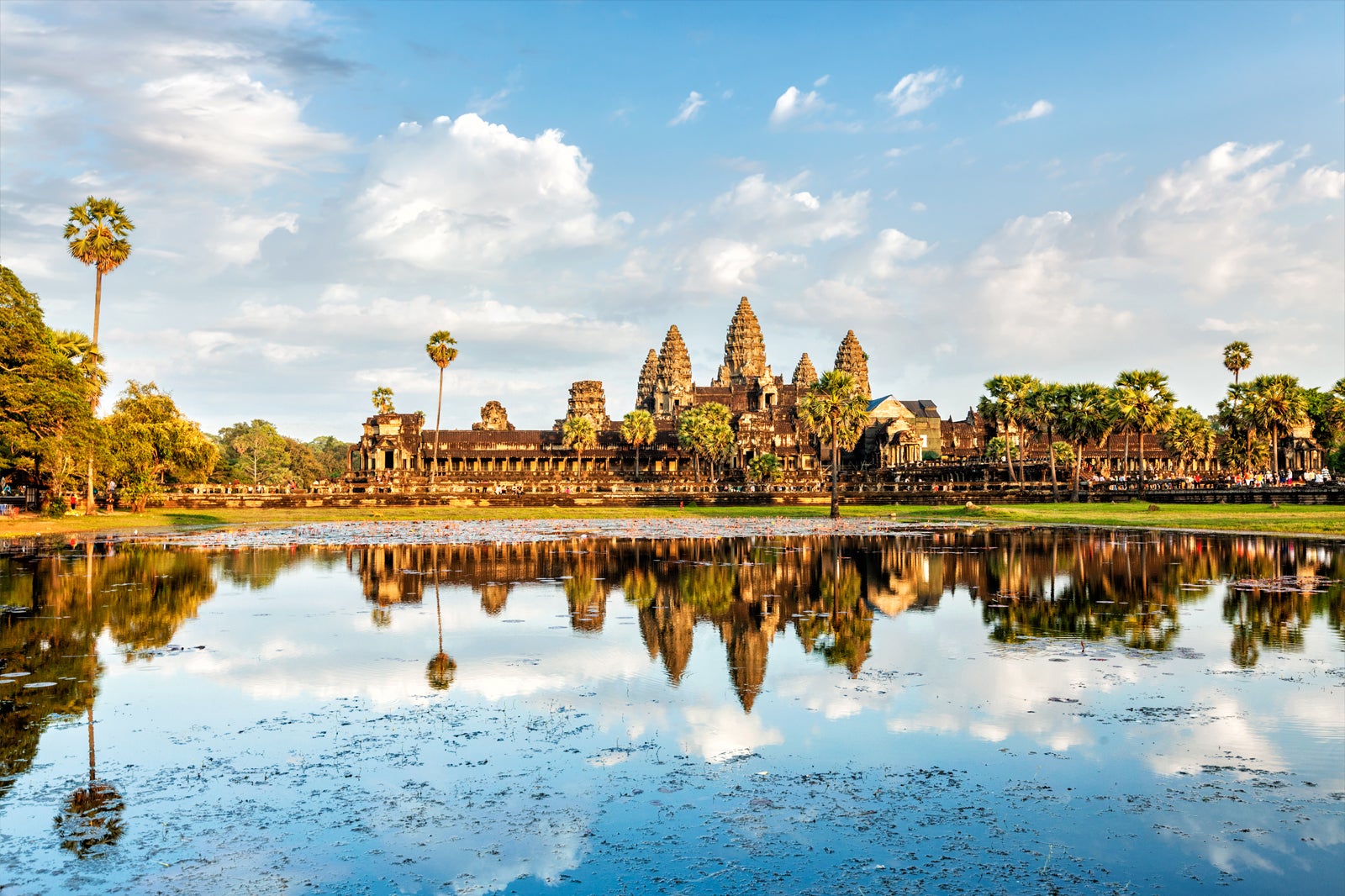 Angkor Wat, listed as a UNESCO World Heritage site in 1992, is Siem Reap's most iconic temple. Located within the expansive Angkor Archaeological Park, it was constructed during the 12th century to worship the Lord Vishnu (a Hindu deity) and, according to scholars, served as a funerary temple for King Suryavarman II.
Today, you can still see 5 lotus-like towers that stand 65 metres tall and 2,000 stone carvings of Apsaras (celestial dancers). It's stunning at any time of day but sunrise is an extra-special time of day to photograph this majestic temple.
الموقع: Angkor Archaeological Park, Siem Reap, Cambodia
أوقات العمل: Daily from 5am to 6pm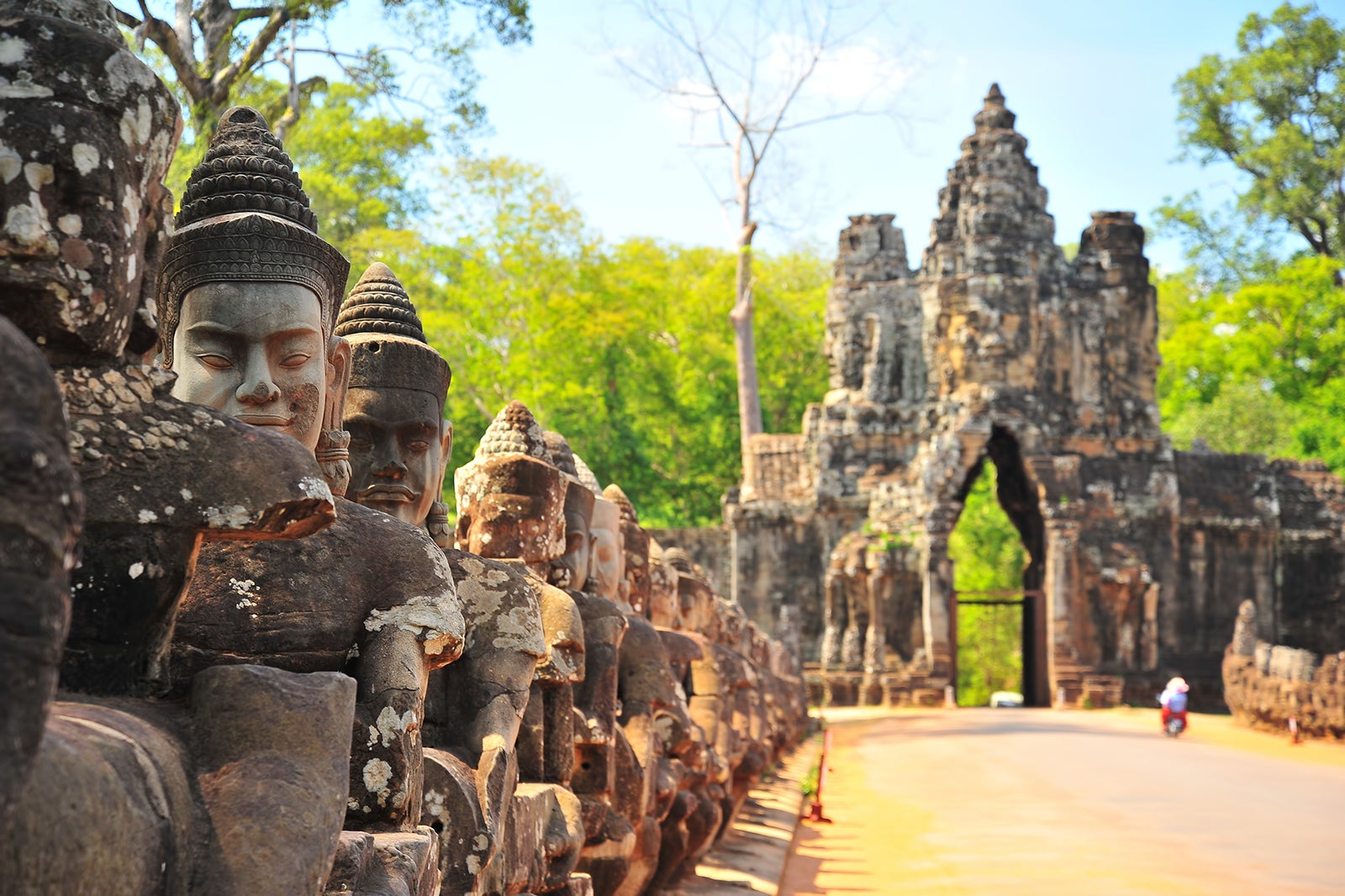 Angkor Thom or Big Angkor was constructed by King Jayavarman VII (1181-1219) as the last capital city of the Angkorian era. The largest site in the Angkor Archaeological Park, 5 20-metre-tall gates surround Angkor Thom, with intricate stone carvings of elephants and the 4-faced Bodhisattva Avalokiteshvara, while causeways leading to the gates are flanked with 108 statues of gods and demons.
Notable temples found within Angkor Thom include Ba Yon Temple, Terrace of the Elephants, and Ta Prohm Temple.
الموقع: Angkor Archaeological Park, Siem Reap, Cambodia
أوقات العمل: Daily from 7.30am to 5.30pm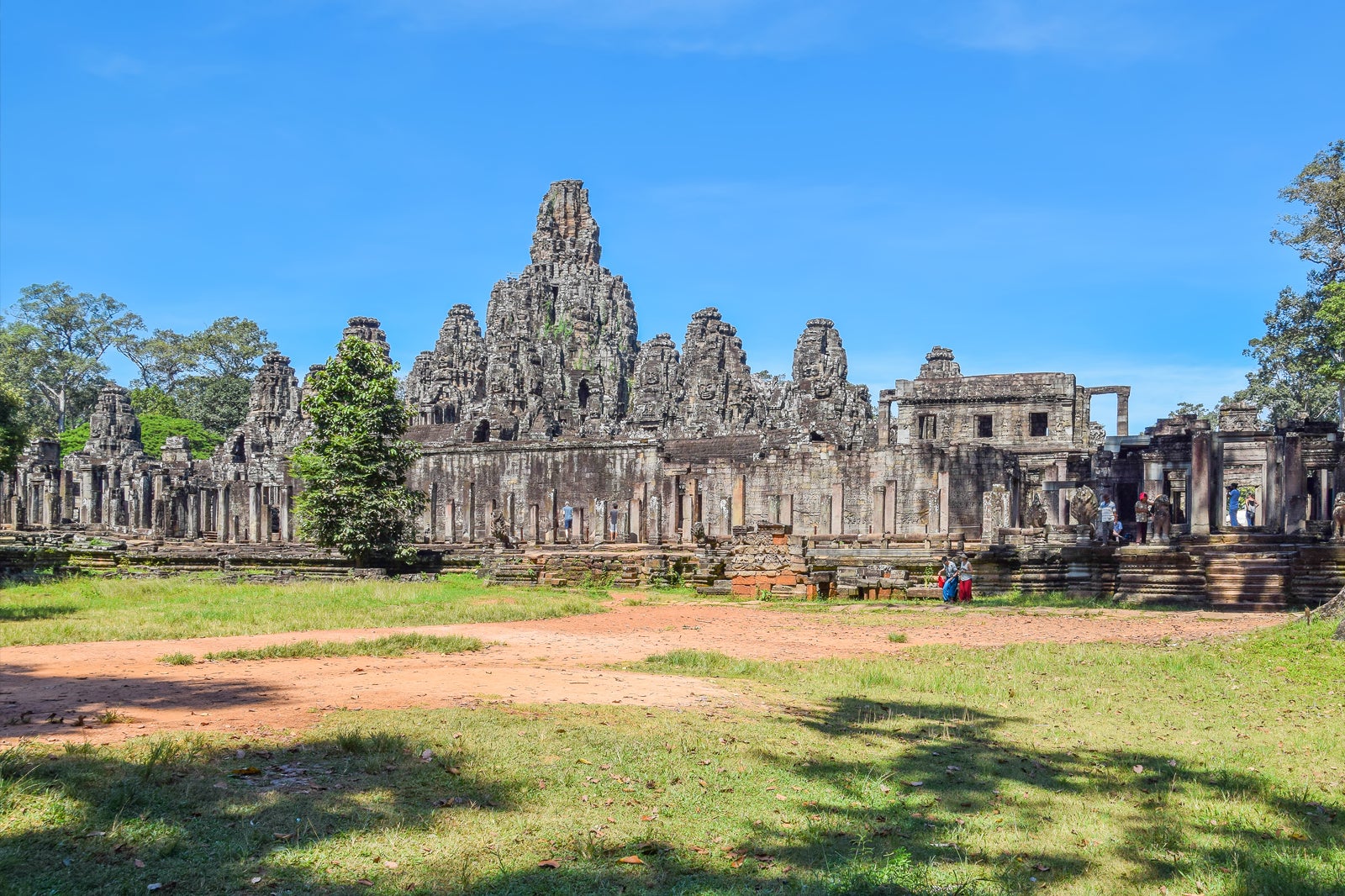 Ba Yon Temple features approximately 50 stone towers with intricately carved with the 4 faces of Bodhisattva Avalokiteshvara on most of them. Set in the middle of Angkor Thom, it was built in the late 12th century to serve as the official state temple of Mahayana Buddhist King Jayavarman VII.
Featuring a serene expression, the stone carvings are easily the most recognisable structures of the ancient Khmer Kingdom, with each of the faces measuring 4 metres in height and oriented toward the 4 cardinal points. Ba Yon Temple is also flanked by 2 long walls with intricate bas-relief scenes of battlefields, markets, religious rituals, and cockfighting.
الموقع: Angkor Archeological Park, Siem Reap, 17000, Cambodia
الصورة من تقدمة Krzysztof Golik (CC BY-SA 4.0) معدّلة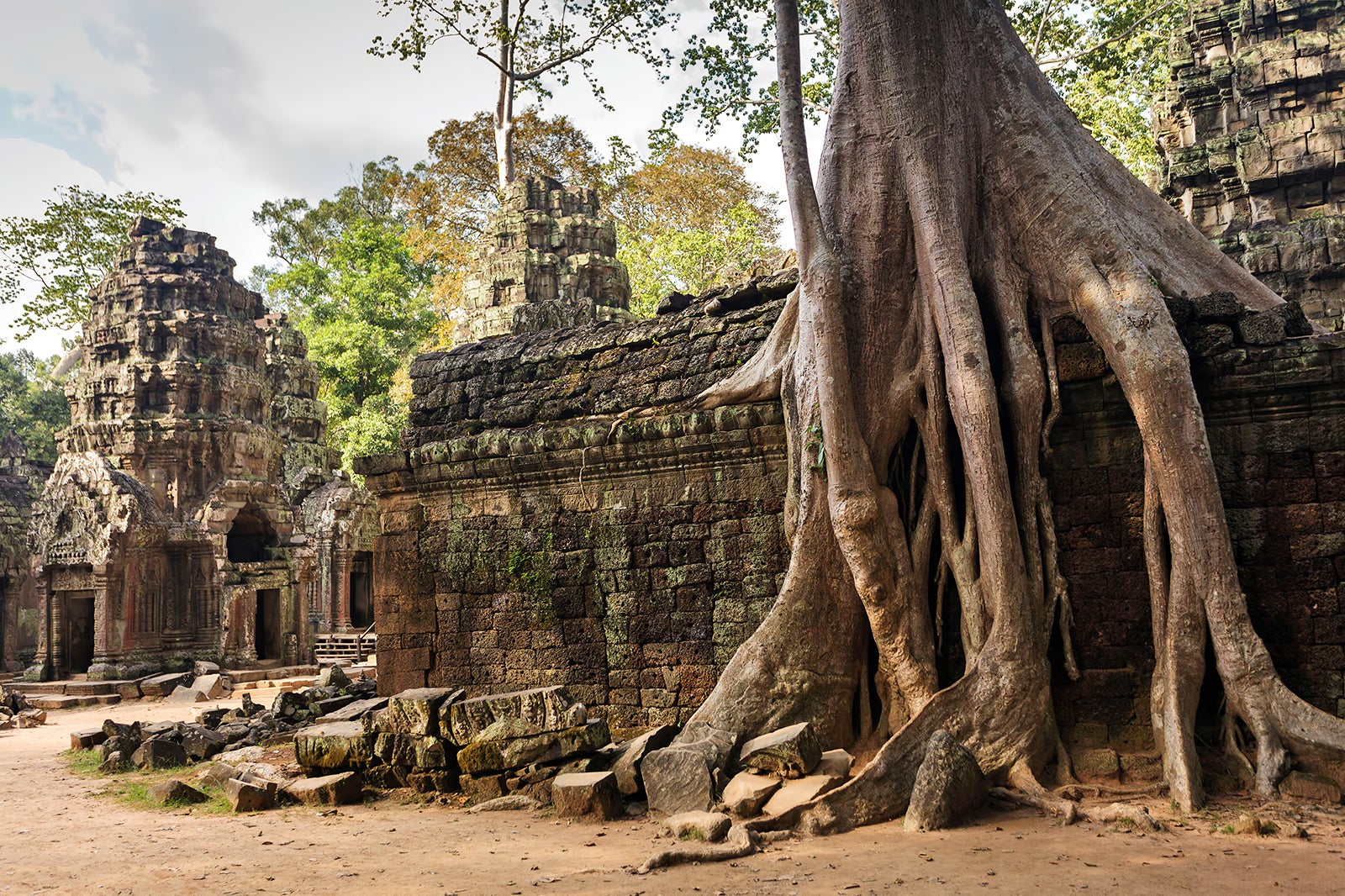 Ta Prohm Temple gained international recognition after it was featured in the video game-inspired movie Tomb Raider. This tranquil monastery was built during the mid-12th century by King Jayavarman VII in commemoration of his mother. Fitted with 600 rooms, courtyards and galleries, it was believed to have housed a population of over 70,000 people, most of them being high priests, monks, assistants, dancers, and labourers.
The ruins of Ta Prohm Temple are now enveloped by huge trees and hanging vines, giving visitors the feeling of discovering a temple lost in the jungle. The temple is about 1 km east of Angkor Thom.
الموقع: Angkor Archaeological Park, Siem Reap, Cambodia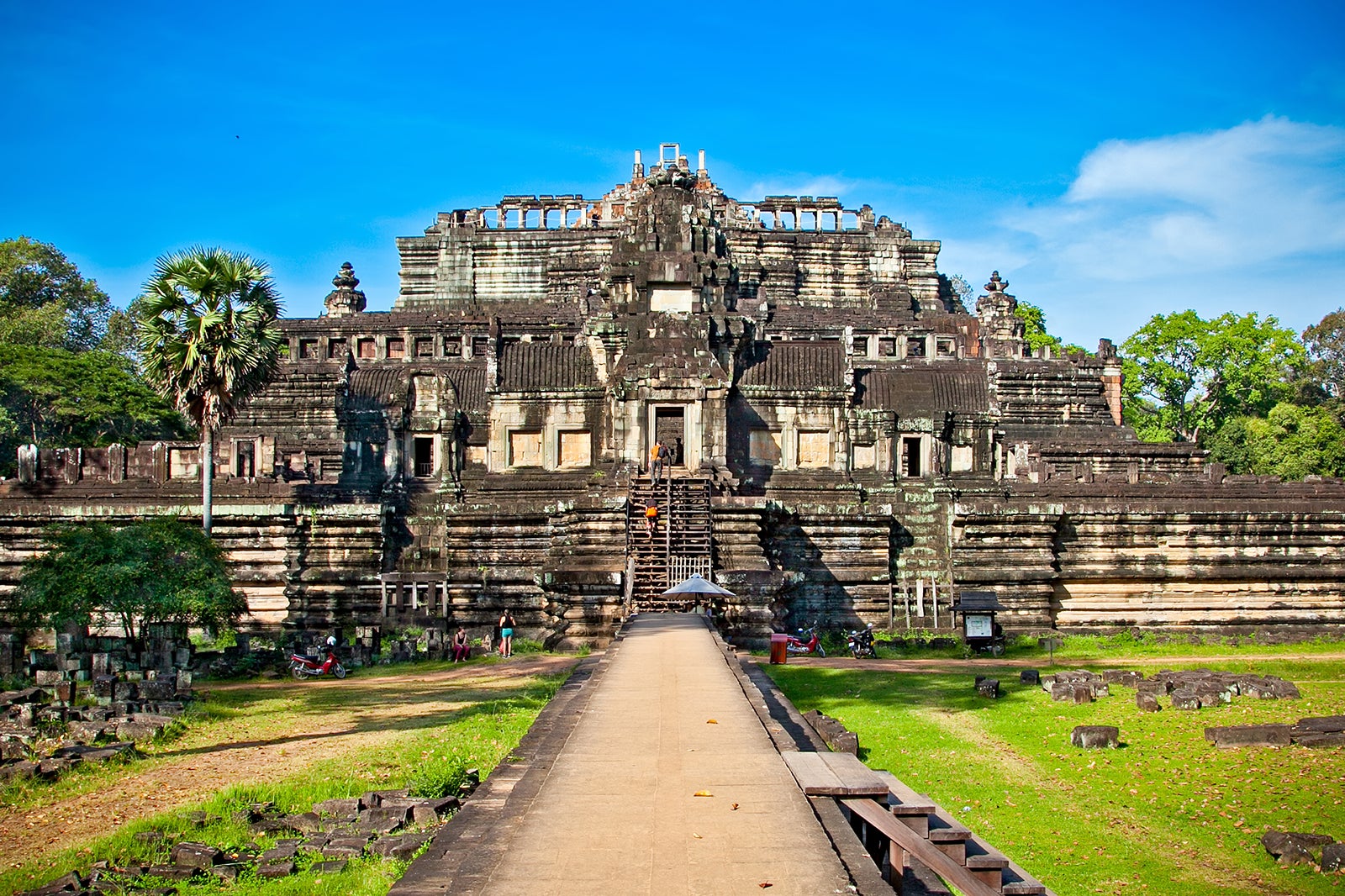 Ba Phuon Temple is a 3-tiered temple mountain that was built in honour of the Hindu God Shiva and served as the state temple of Udayadityavarman II during the mid-11th century. Located northwest of Ba Yon Temple, its pyramid-like shape is an architectural representation of the mythical Mount Meru.
Despite several restoration attempts, much of Ba Phuon Temple had largely collapsed by the 20th century. Visitors can still find unique animal carvings at the entrance to the central sanctuary. You can reach Ba Phuon just northwest of Ba Yon Temple.
الموقع: Angkor Archaelogical Park, Siem Reap, Cambodia
رقم الهاتف: +855 63 765 577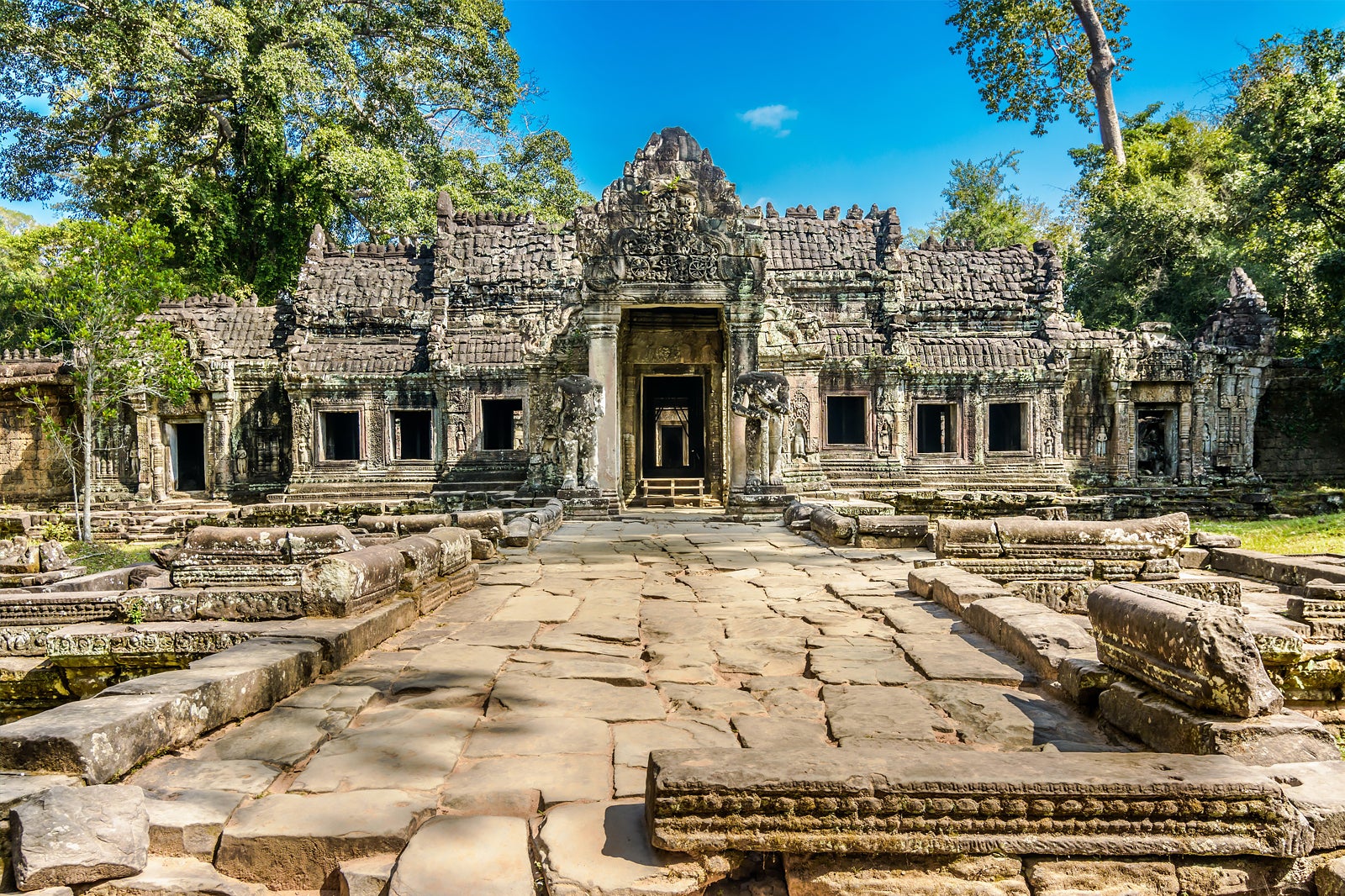 The Preah Khan (Sacred Sword) temple complex is surrounded by a wide moat and features walls decorated with carvings of garudas, a bird-like mythical being in Hindu mythology. Dedicated by the King Jayavarman VII to his father in 1191, it houses maze-like entryways, towers, ceremonial spaces, courtyards, and shrines.
The temple's standout features are the 2-storey pavilion and the Hall of Dancers, decorated with images of Apsara dancers on its pillars. Located 2 kilometres northeast of Angkor Thom, Preah Khan has been left in a largely unreconstructed state, allowing for numerous trees, vines, and various vegetation growing among the ruins.
الموقع: Siem Reap, Cambodia
The Terrace of the Elephants in the centre of Angkor Thom features beautiful bas-relief scenes of elephants and garudas, making it one of the most photographed sites in Angkor Archaeological Park. Utilised by King Jayavarman VII as a viewing platform for public ceremonies during the late 12th century, the striking terrace measures at 300 metres in length and 2-and-a-half metres in height.
The northern part of the Terrace of the Elephants is decorated with sculptures of a 5-headed horse, Apsara dancers and Khmer warriors.
الموقع: Angkor Archaeological Park, Siem Reap, Cambodia
أوقات العمل: Daily from 7am to 5.30pm
الصورة من تقدمة Jorge Láscar (CC BY 2.0) معدّلة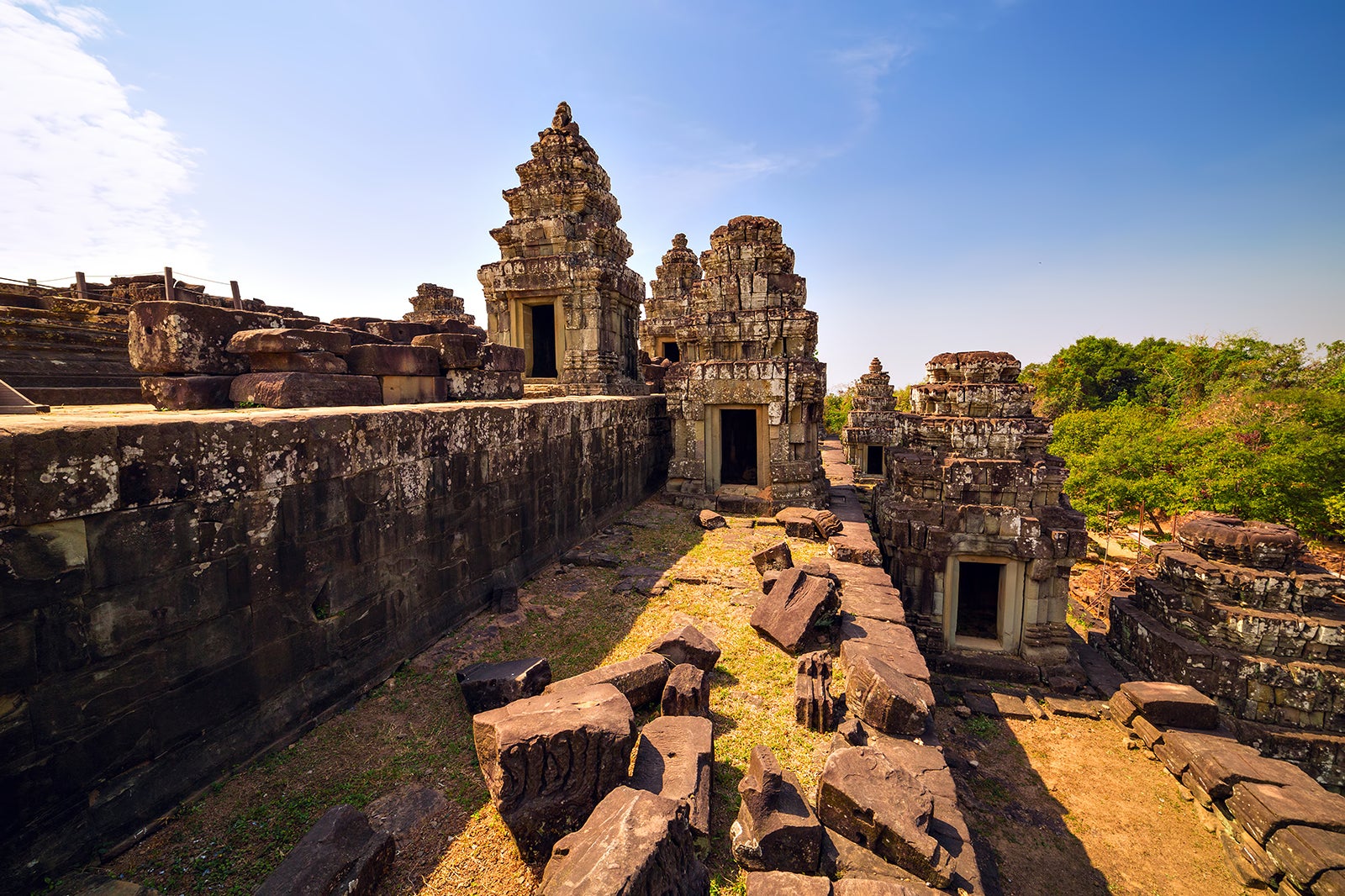 Phnom Bakheng (Bakheng Hill)
Phnom Bakheng (Bakheng Hill) is a major temple what was built after the capital was moved from Roluos during the 9th century. Constructed over 2 centuries before the iconic Angkor Wat, this temple-mountain represents Mount Meru, home of the Hindu gods, and served as the state temple of King Yasovarman I.
Despite its imposing height and narrow stairway, Phnom Bakheng is very popular for sunrise and sunset viewing amongst tourists as its hilltop location offers spectacular views of the surrounding countryside. You can reach it about 32 km northeast of Siem Reap.
الموقع: Angkor Archaeological Park, Siem Reap, Cambodia
أوقات العمل: Daily from 5am to 5pm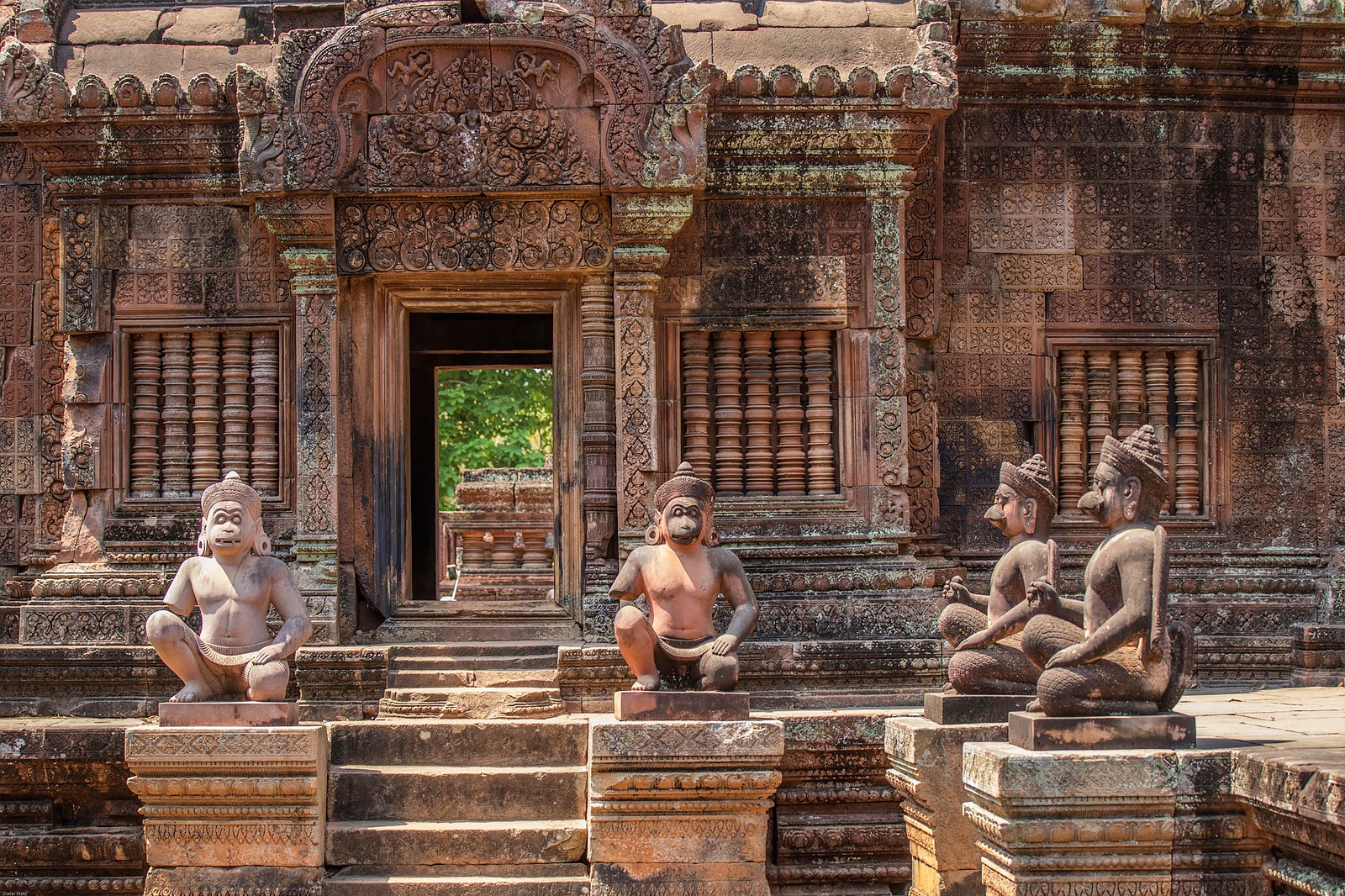 Prasat Banteay Srei is a 10th-century Hindu temple that boasts some of the most well-preserved relics in Siem Reap. Unlike the temples in Angkor Archaeological Park, it was built by a Brahmin counsellor to King Rajendravarman. Locally known as the 'citadel of the women,' Prasat Banteay Srei is fitted with pink sandstones and 3-dimensional carvings of scenes from the Ramayana epic, as well as female deities in traditional attire carrying lotus flowers in each hand.
The temple is about 32km northeast of Siem Reap, and it takes about an hour to get to the Banteay Srei by taxi. Even so, it's a must-visit for those looking to explore more temples beyond downtown Siem Reap.
الموقع: Siem Reap, Cambodia
أوقات العمل: Daily from 5am to 5pm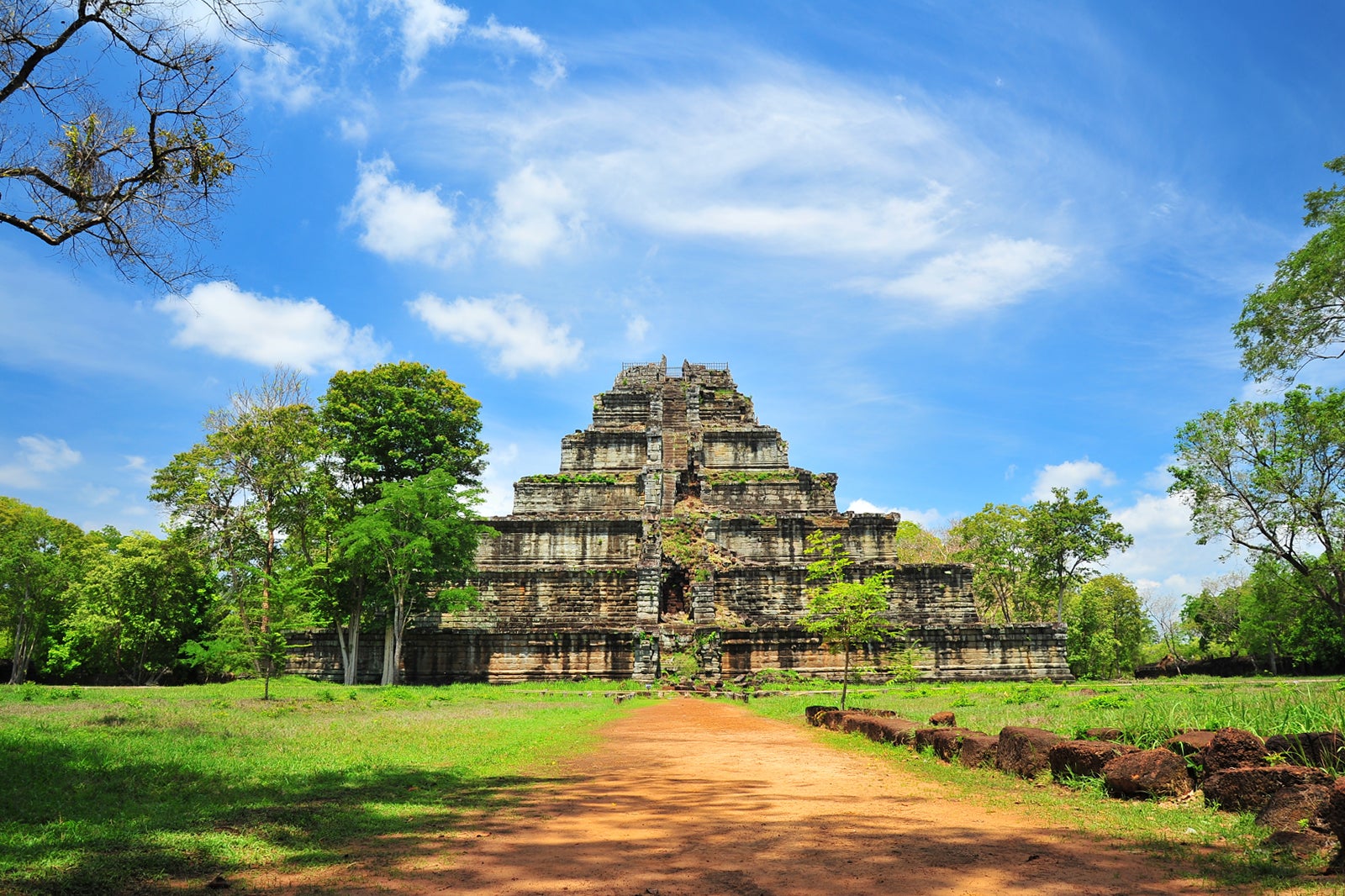 Koh Ker, located 80 km northeast of Siem Reap, was the capital of the Khmer Empire between 928AD and 944AD. It's the second largest temple town after Angkor, housing almost 100 temple ruins but the most impressive structure here is Prasat Thom, a large 7-tiered temple complex.
Spanning 36 metres in height, the stairway to top offers breathtaking views of Koh Ker, though it's only accessible to a limited number of visitors. It does take over 2 hours to drive to Koh Ker from Siem Reap so it is less visited than many other temple ruins in the area. The entry price is also significantly cheaper than the Angkor Archaeological Park.
الموقع: Koh Ker, Cambodia