عذرا، لم تتم ترجمة هذه الصفحة إلى لغتك بعد...
10 Best Things to Do in Belgrade
What is Belgrade Most Famous For?
Belgrade has gradually made its way onto the tourist scene thanks to its beautiful authenticity. As you stroll around its diverse streets, you'll be charmed by the sounds of local Serbian songs as you check out the array of alleyways lined with alfresco dining options. That sort of character and charm certainly makes up for the lack of world-famous attractions.
Belgrade may have a reputation as an all-year-round party place, but there are hidden gems to uncover. Whether it be the architecture or the galleries and bookshops tucked away in charming inner-city streets, Belgrade has a few surprises up its cultural sleeve. Though, of course, there are plenty of vibrant bars to delve into, too.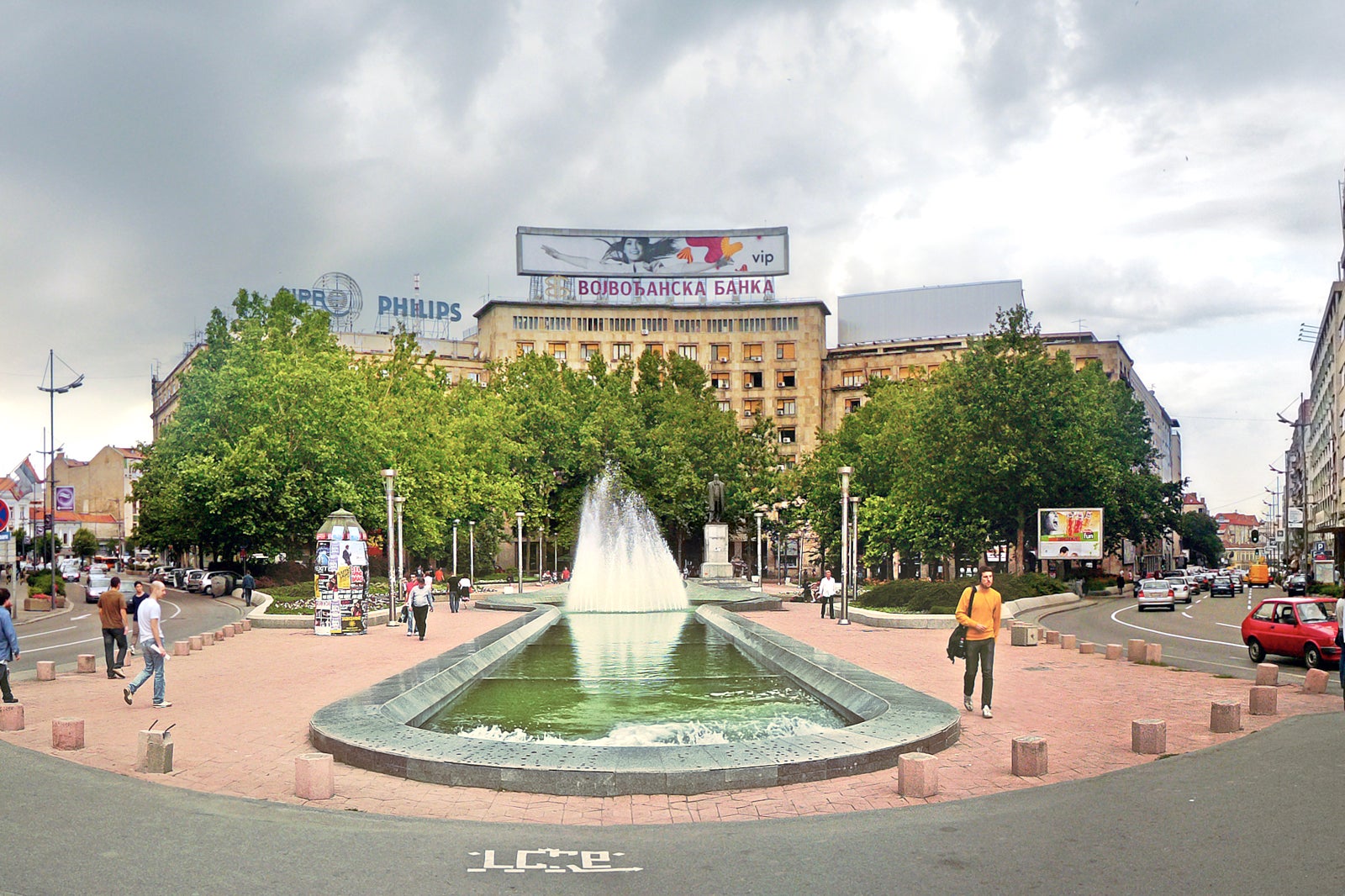 Start the day in Nikola Pasic Square
A great spot for a cultural wake-up call
If your idea of waking up in Belgrade includes a side of culture with your morning coffee, Nikola Pasic Square is the ideal place. Taking pride of place in this sequestered square sits the iconic monument of Nikola Pasic – a famous Serbian Prime Minister who truly dominated the country's political scene in the early 20th century.
After paying homage to the stunning statue, take a westward wander from the bottom end of the square to see the New and Old Royal Palace's and Pionirski Park. Whether you choose to cool off in the fountain or take shade under the trees, it's a great spot to take a central Serbian stroll.
الموقع: Nikola Pašić Square, Belgrade, Serbia
الصورة من تقدمة Lošmi (CC BY-SA 3.0) معدّلة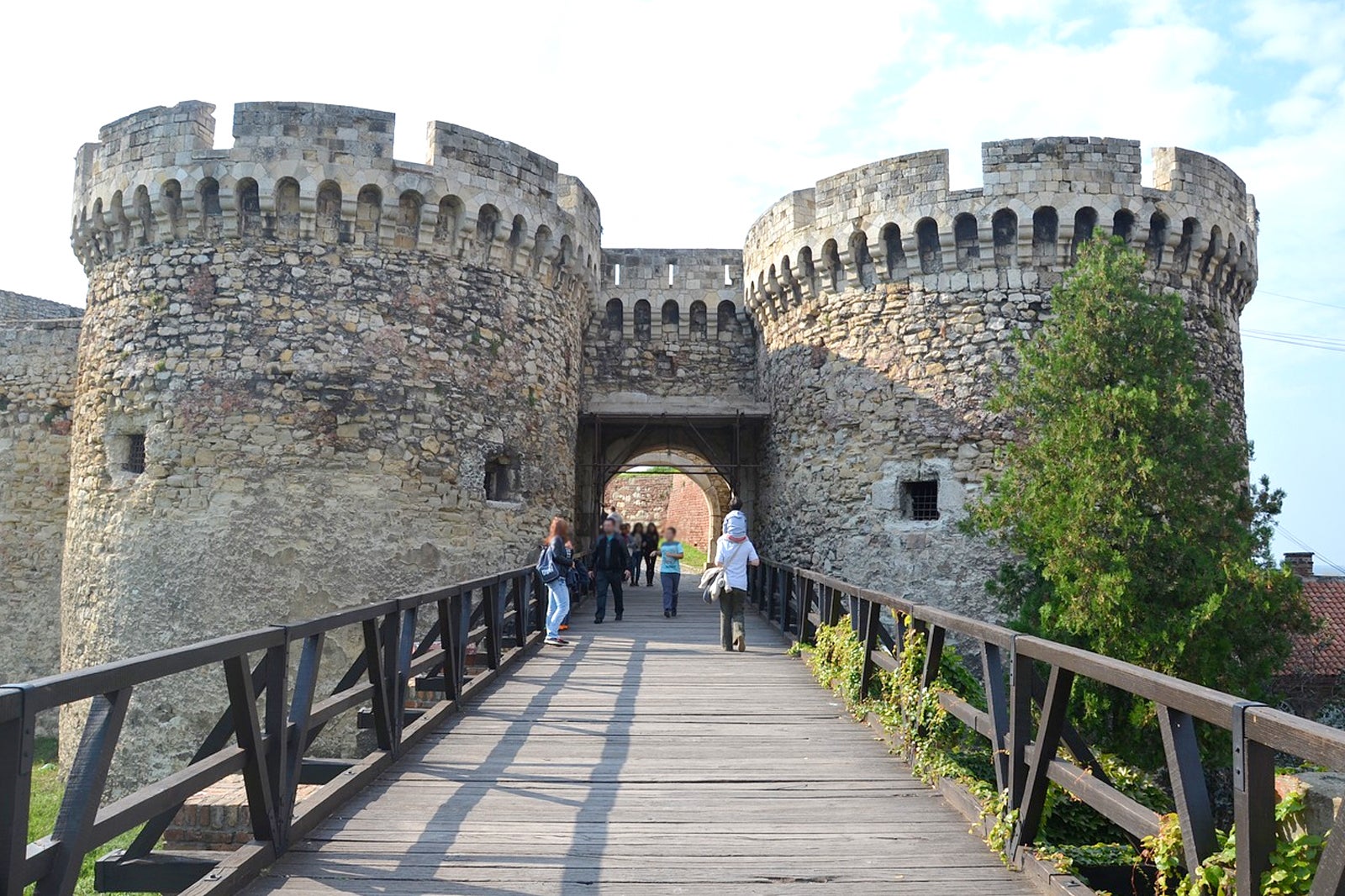 Must-See: Kalemegdan Fortress
Belgrade's pride and joy
On top of a cliff overlooking the Danube River, the well-restored Kalmegdan Fortress stretches across a large area of land, as well as a lot of the city's history. Starting with the Romans right through to the 18th century, its crumbling walls have seen it all, from centuries of sieges and battles to a number of conquests.
The fortress is split into 3 parts – Upper Town, Lower Town and Kalemegdan Park, with the latter being a popular space due to its Art Pavilion, various sculptures and welcoming spots of shade. Look around and you'll find an abundance of nature, a chess player or 2 and couples strolling arm in arm. Free to enter, this flamboyant fortress hosts all kinds of events throughout the year, from festivals to one-off live music gigs.
الموقع: Kalemegdan Park, Belgrade 11000, Serbia
رقم الهاتف: +381 (0)11 2633747
الطابع التاريخي
الصور
الميزانية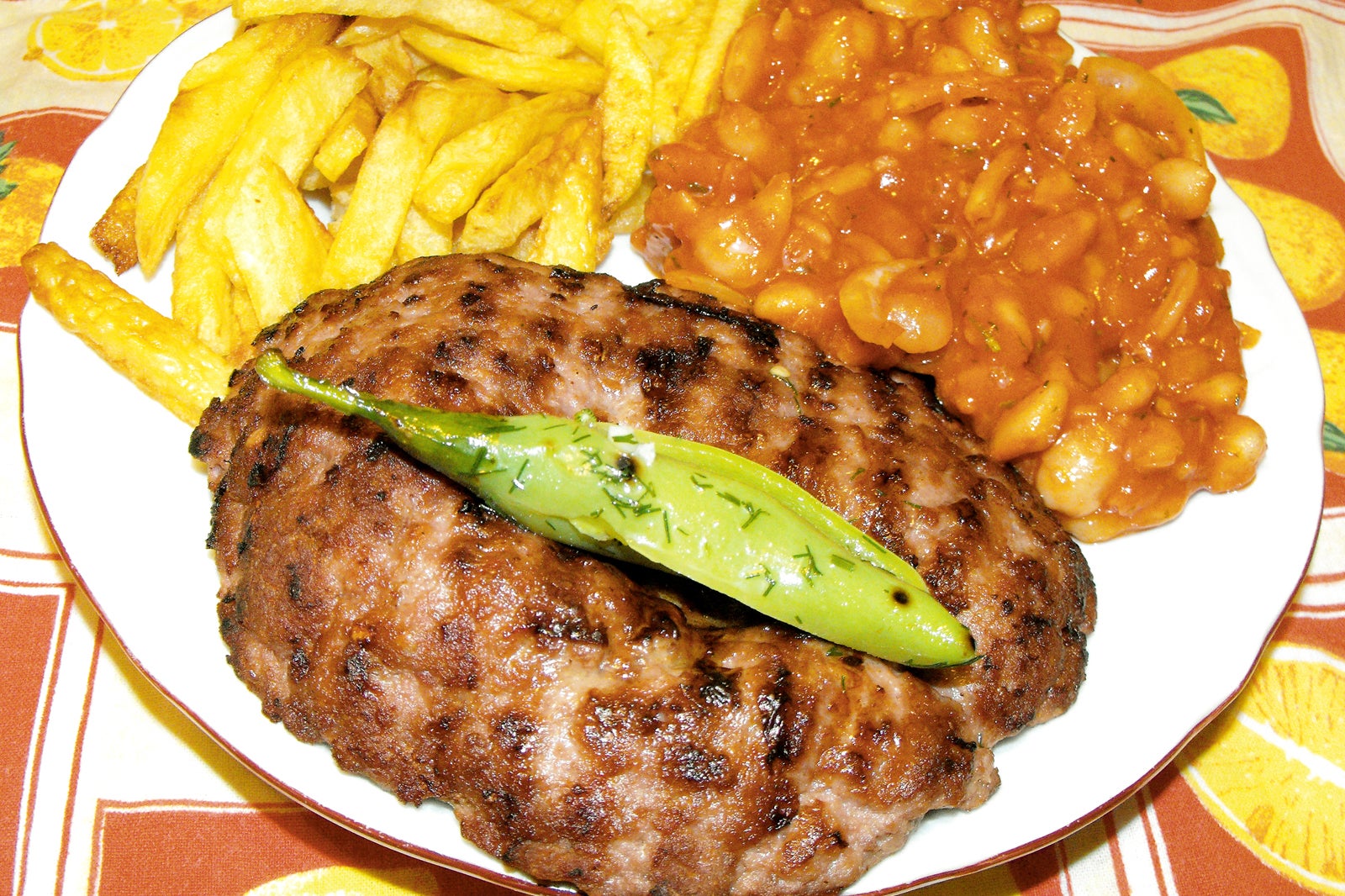 Eat pljeskavica
Serbia's take on the classic hamburger
Serbian cuisine boasts a lot of diversity thanks to its eclectic range of influences from people who've passed through its streets, from Central Europeans through to local Balkans. One particular dish that stands out is the popular pljeskavica. Difficult to pronounce – the correct way is "pless-kah-VEE-tsah" – this tasty offering is easy enough to chow down on.
As a mixed meat patty, made up of ground beef, lamb and sometimes pork, with a little spice thrown in, the best spot for this Serbian treat is Loki. Try their speciality, gurmanska pljeskavica. It has all the same components of a traditional minced patty, but it's stuffed with cheese and cubes of bacon before being grilled to perfection. Sophisticated? No. Tasty? Absolutely.
الموقع: Strahinjića Bana 36, Belgrade 11000, Serbia
رقم الهاتف: +381 (0)63 1644492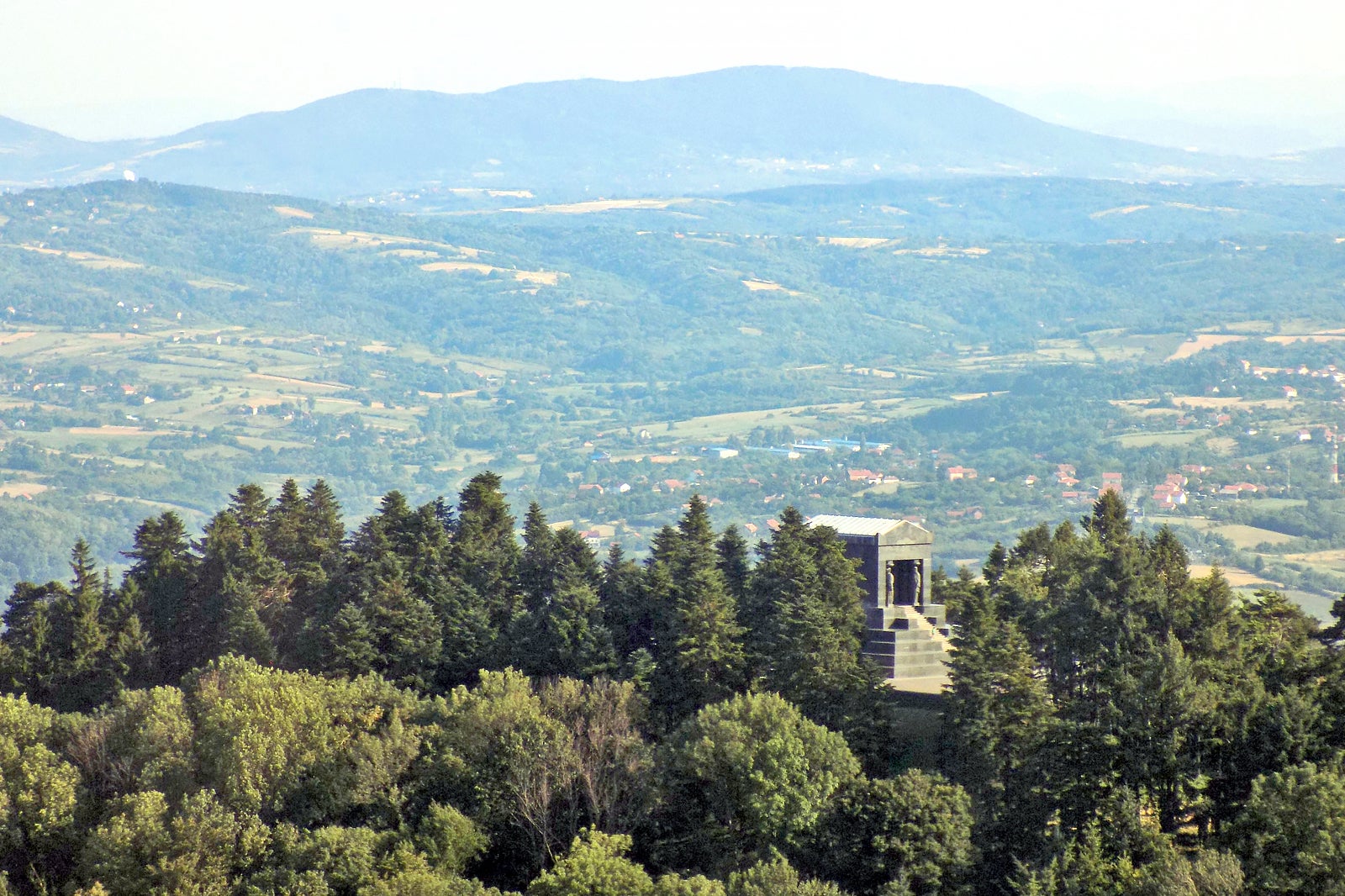 Make your way to the top of Mt Avala
For a Serbian sunset and sweeping views from the Avala tower
If you're seeking some fresh Serbian air, head 16 km out of the city centre and make your way to the top of Mt Avala. As an antidote to swarming inner-city streets, this quiet mountain offers a panoramic view of Belgrade. Whether you grab some friends for an impromptu picnic or go it alone, it's a great spot for a little solitude.
Make sure to check out the memorial of the unknown soldier and visit the 205-metres-tall Avala Tower, where you can be whisked all the way to the top in just under a minute by the super-speedy lift. Stay a little later if capturing a Serbian sunset is on your to-do list.
الصورة من تقدمة BuhaM (CC BY-SA 4.0) معدّلة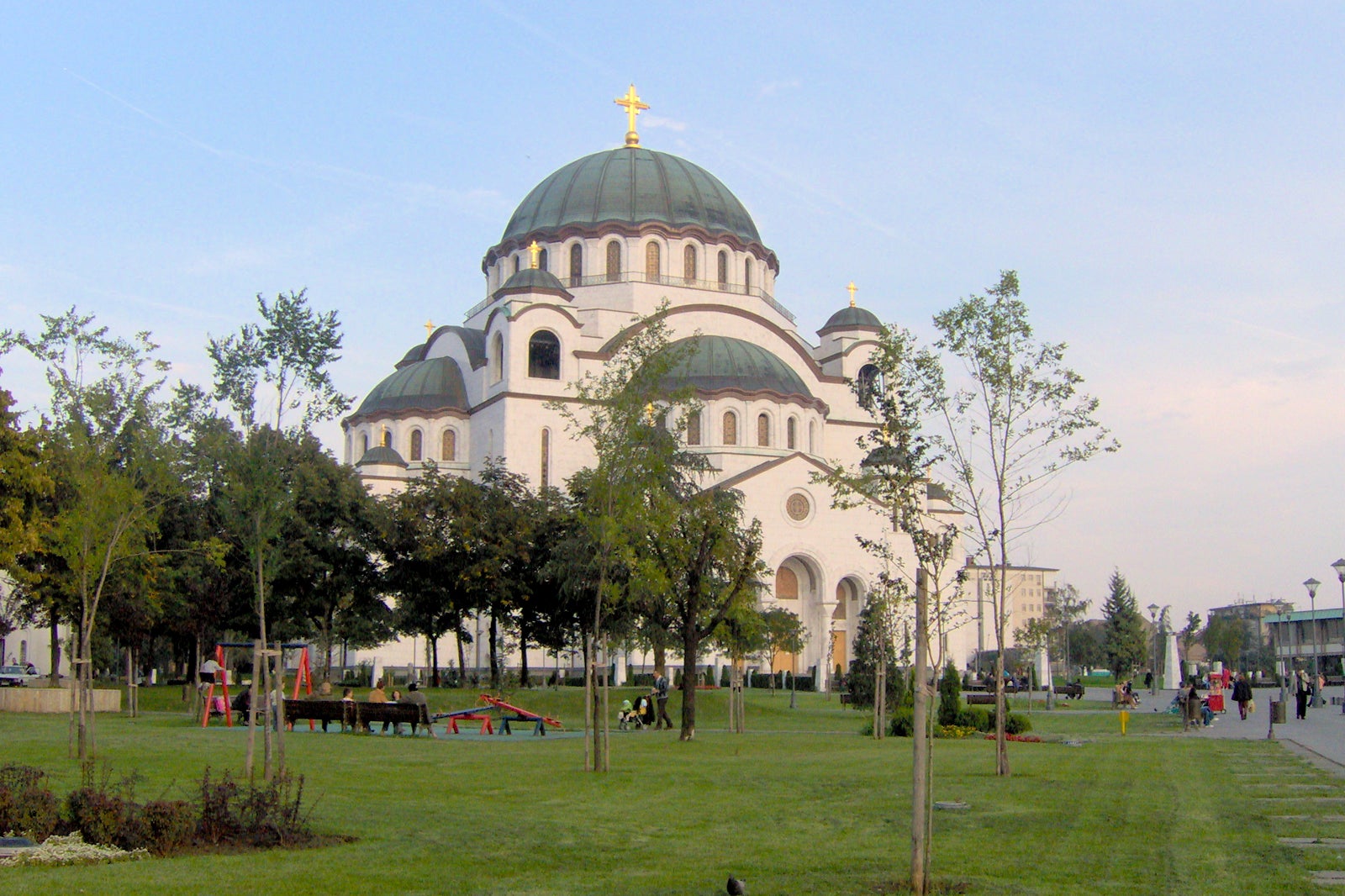 Must-See: the Church of St Sava
See the structure that dominates Belgrade's skyline
The Church of St Sava is among the largest places of worship in the world. Located on top of the Vračar plateau, and dedicated to Saint Sava, the founder of the Serbian Orthodox Church, it's one of Belgrade's most iconic buildings. Everywhere you turn, you'll be greeted with glimmering splashes of gold and colourful artwork.
If you head to the crypt in the basement, you'll see beautiful frescoes of religious icons and historical figures. Expect to spend around 30 to 45 minutes enjoying the impressive décor and architecture. It's the city's crowning jewel and one that sparkles magnificently in the sunshine.
الموقع: Krušedolska 2a, Vračar, Belgrade, Serbia
رقم الهاتف: +381 (0)11 24 32 585
الطابع التاريخي
الصور
الميزانية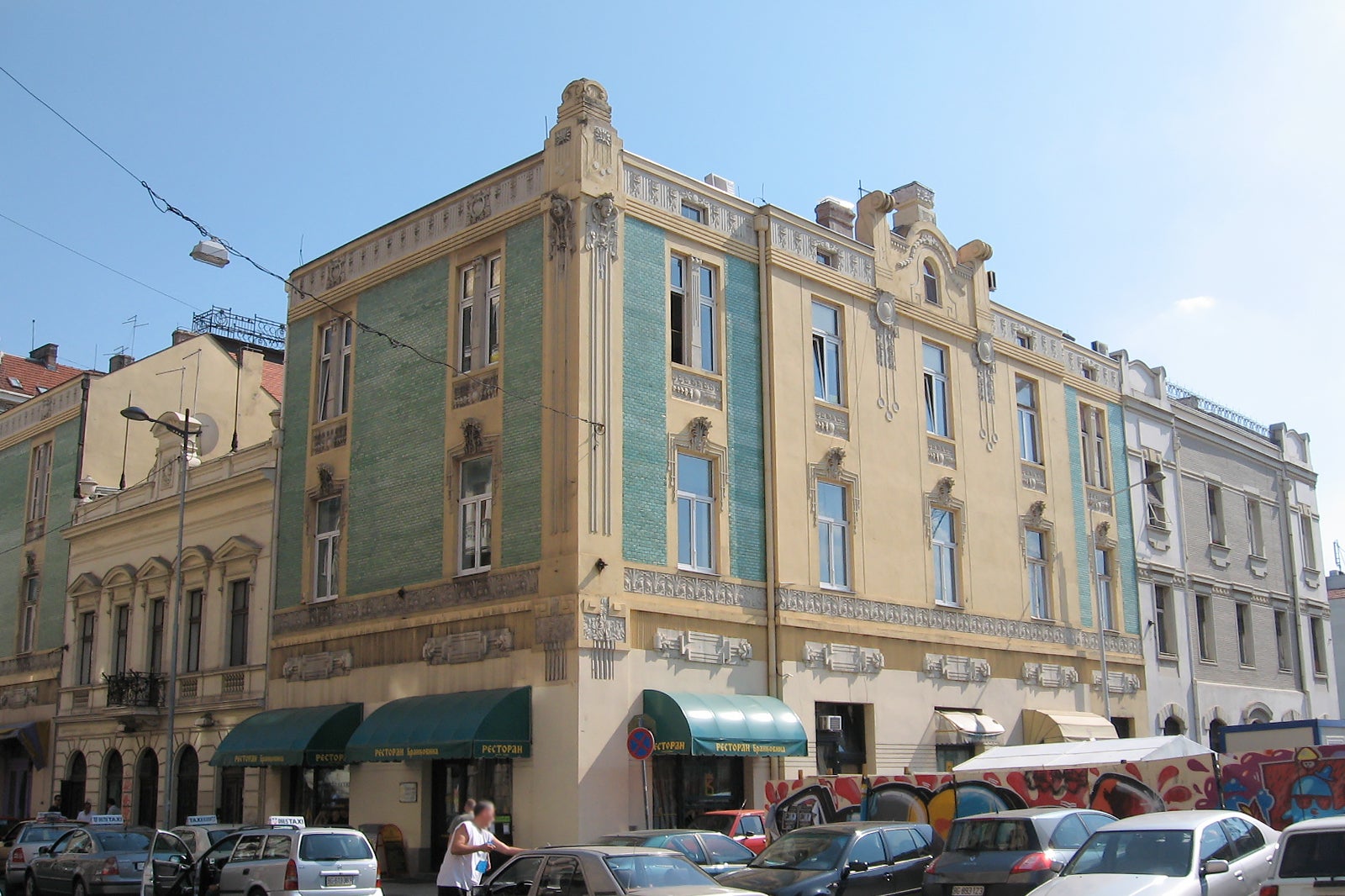 Slow it down in Dorćol
Belgrade's old town equivalent
Belgrade doesn't technically have an old town, but Dorćol is your best bet if a blend of history, culture and lazy strolling is on your Serbian agenda. It's one of the oldest and most significant neighbourhoods in all of Belgrade. As you wander along the charming nooks and crannies of the cobbled crossroads, you'll be met with sites steeped in history, stories and legends.
Embrace the café culture in popular people-watching spots, such as Ministarstvo Kafe and Café de France and discover the many historical buildings, from the Bajrakli Mosque to the Museum of Vuk. If you take a stroll on a Sunday afternoon, you'll encounter the eclectic stalls of Dorćol Platz, a cultural centre and marketplace offering up homemade gifts and second-hand finds.
التسوّق
الطابع التاريخي
الميزانية
الصورة من تقدمة Lumen roma (CC BY 3.0) معدّلة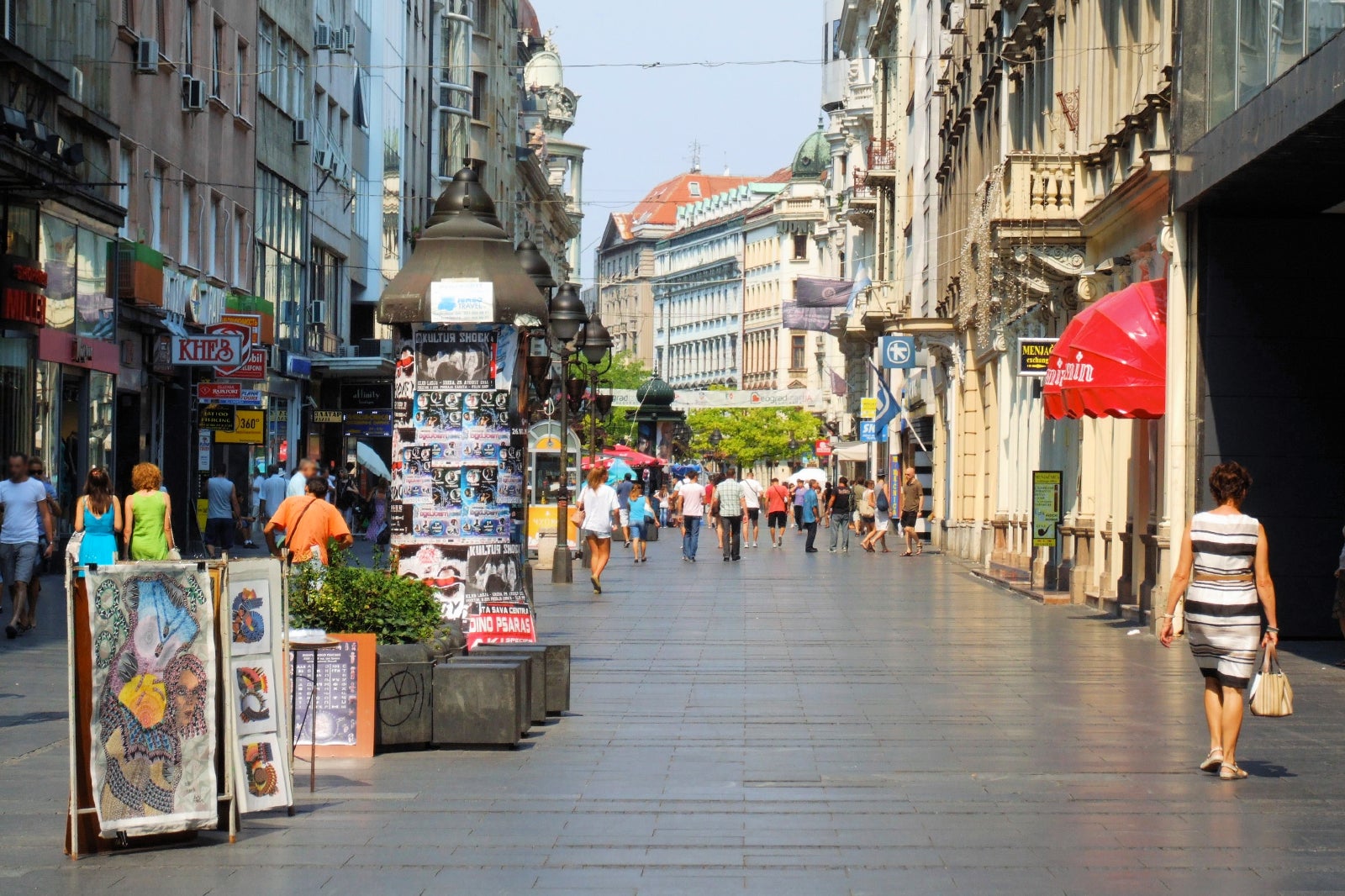 Fill your bags at Knez Mihailova
A bustling street full of shopping and cultural delights
Knez Mihailova is a head-turning hub of activity and the perfect place to pick up some bargains or bag well-known brand items. Whatever your penchant, head to the top end of Knez Mihailalova Street for the best gifts and souvenirs.
Culture lovers can take their pick from the many buildings this bustling street plays host to. From the Serbian Academy of Sciences and Arts to the Goethe Institut and the Centre Culturel Français, once you've absorbed as much as you can stomach, grab a midday meal in one of the many eateries and raise a glass to the cheerful epicentre of Belgrade.
الموقع: Knez Mihailova, Belgrade, Serbia
الصورة من تقدمة Pudelek (CC BY-SA 3.0) معدّلة
Visit the Museum of Yugoslavia
And take a tour around the fragrant House of Flowers
If you want to understand Belgrade's place in history, a visit to the Museum of Yugoslavia is a must. Housing an array of archaeological displays, the museum is dedicated to the region's past and heritage, from the founding of the Kingdom of SCS to King Alexander's dictatorship.
Make sure to visit the House of Flowers – a mausoleum dedicated to Josip Broz Tito, the President of the Socialist Federal Republic of Yugoslavia. You can see the gifts Tito kept in various rooms, each in pristine condition. It can be a little tricky to locate but once you get there, you'll find it's one of the best museums in all of Belgrade for true history buffs to dive into.
الموقع: Mihaila Mike Jankovica 6, Belgrade 11000, Serbia
أوقات العمل: Tuesday–Sunday from 10am to 6pm (closed on Mondays)
رقم الهاتف: +381 (0)11 3671485
الصورة من تقدمة MirkoS18 (CC BY-SA 4.0) معدّلة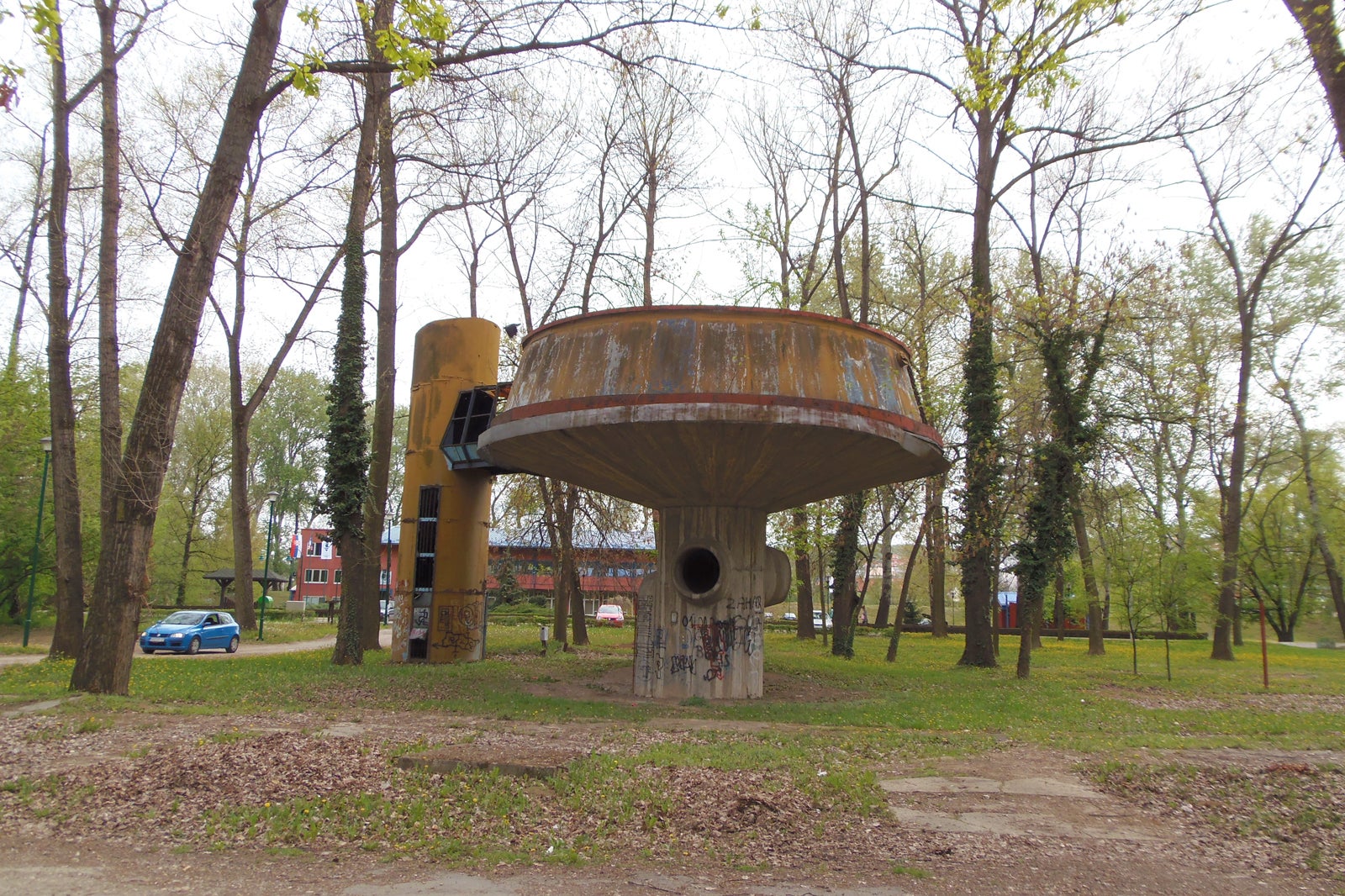 Take a stroll around Ada Ciganlija
Summer is its time to shine
Situated on the Sava River running through central Belgrade, Ada Cignalija is a river island created proudly by human hands. Known to the locals as "Belgrade Sea", this scenic area is great for a little rest and relaxation after exploring the city. There's an embankment on one side and the shimmering Sava Lake on the other, with numerous walking spots and water sports to dive on into.
Ada Ciganlija is one of Belgrade's most beautiful spots. Home to a whole host of wildlife species, it's also ideal for an hour or 2 of fishing and if you happen to be visiting in summer. You'll be met by scenes of vivid greenery and glimmering waters.
الموقع: Ada Ciganlija 2, Belgrade 11030, Serbia
الصورة من تقدمة Михајло Анђелковић (CC BY-SA 3.0) معدّلة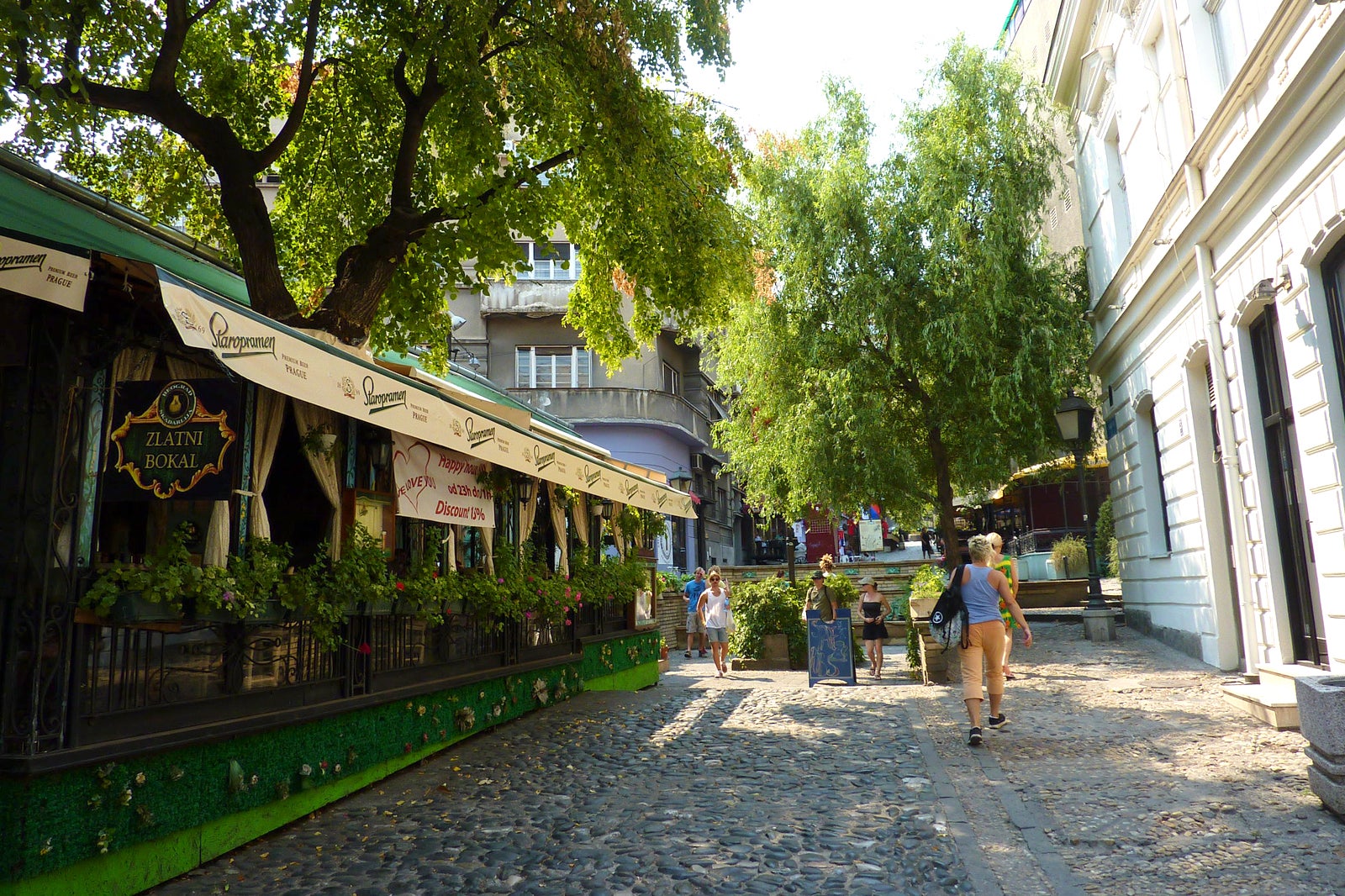 End the day at Skadarlija
Belgrade's ultra-bohemian quarter
As the Serbian sun starts to set, the cobbled streets of Skardarlija make for the most inviting of neighbourhoods. On a typical evening, this super-trendy, bohemian quarter is packed full of laughter, live music and happening foodie hotspots. Take your pick from the larger-than-life portions at popular eatery Dva Jelena or the cool offering of cocktails at Red Bar and so many more besides.
Whether you choose to dine out on the streets or prop yourself up at the bar, this bustling area will make you feel more than welcome. End the evening with a spot of live music. As you listen to the range of traditional Serbian songs, you'll really get a taste of local life.
الموقع: Skadarska Ulica, Belgrade, Serbia
الصورة من تقدمة Erwan Martin (CC BY 2.0) معدّلة