عذرا، لم تتم ترجمة هذه الصفحة إلى لغتك بعد...
10 Best Things to Do in Marbella
What is Marbella Most Famous For?
Marbella is kind of like a cut-price Monaco, but with the added bonus of the beaches which make the Costa del Sol so famous. The Andalusian city has a very long history (you can see a 1st century Roman Bridge at Hotel Puente Romano), but embraces modernity, with great nightclubs and facilities for boats and yachts.
There's no reason to be bored in Marbella. You can enjoy the water activities on Bounty Beach, sample delicious tapas washed down with sangria, visit historical buildings, and party until late in sophisticated clubs. Alternatively, if that sound too much like hard work, you can just chill in the town squares and enjoy the laid-back atmosphere in the warm Spanish sun.
What are the best things to do in Marbella?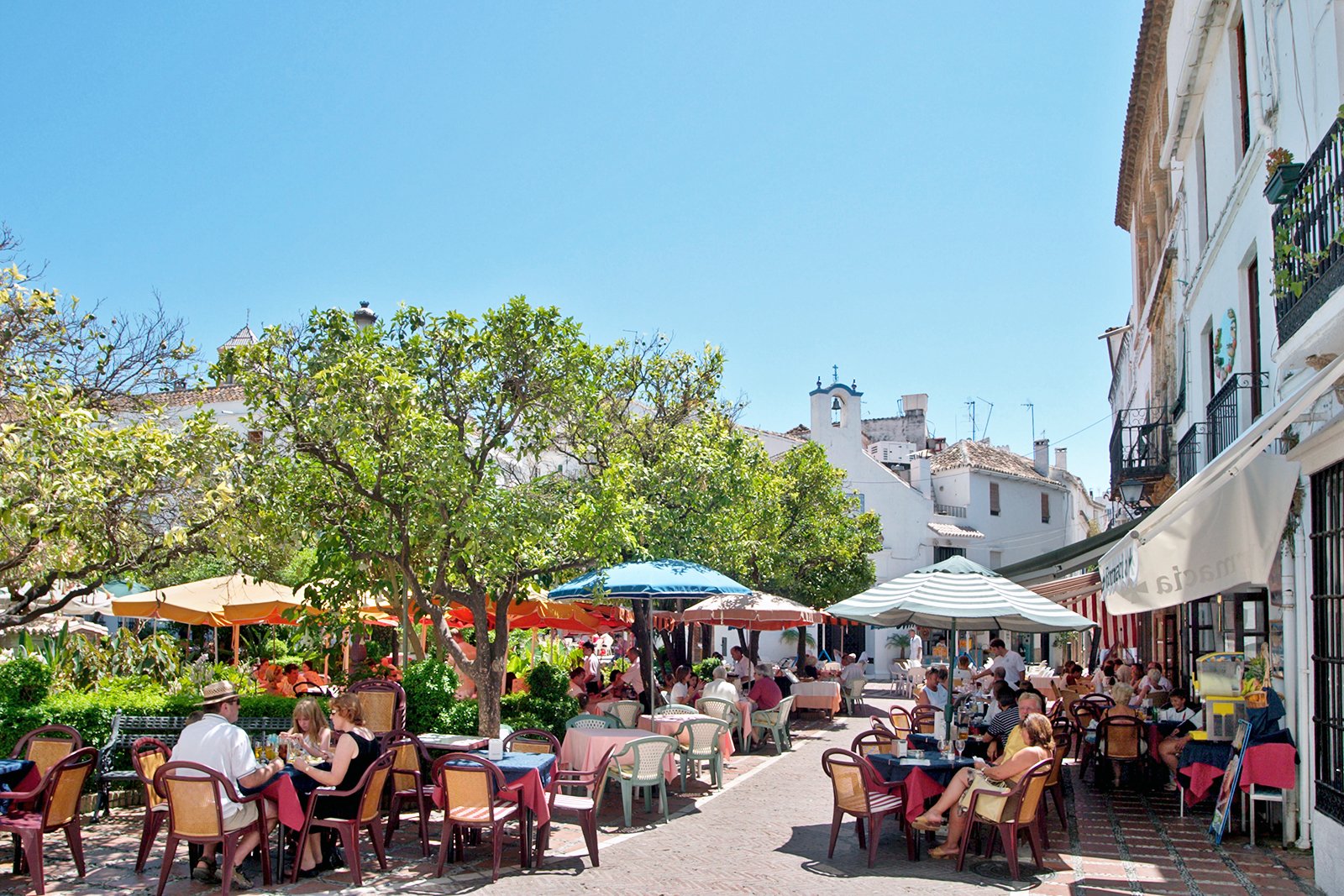 Start the day on Plaza de los Naranjos
Feel out the city of Marbella on one of its liveliest squares
Framed by historic buildings and classic white Andalusian houses, Plaza de los Naranjos is the hub of Marbella Old Town. Taking its name from the orange trees that surround the Renaissance fountain that sits in its centre, the square is mostly occupied by the umbrella-shaded tables and chairs of nearby restaurants. Just take a sit and take the pulse of the city. Plaza de los Naranjos is the perfect place to start your tour of Marbella Old Town.
الموقع: In the centre of the Old Town, about 600 metres north of the Old Port of Marbella
الأزواج
العائلات
الطابع التاريخي
الصور
الميزانية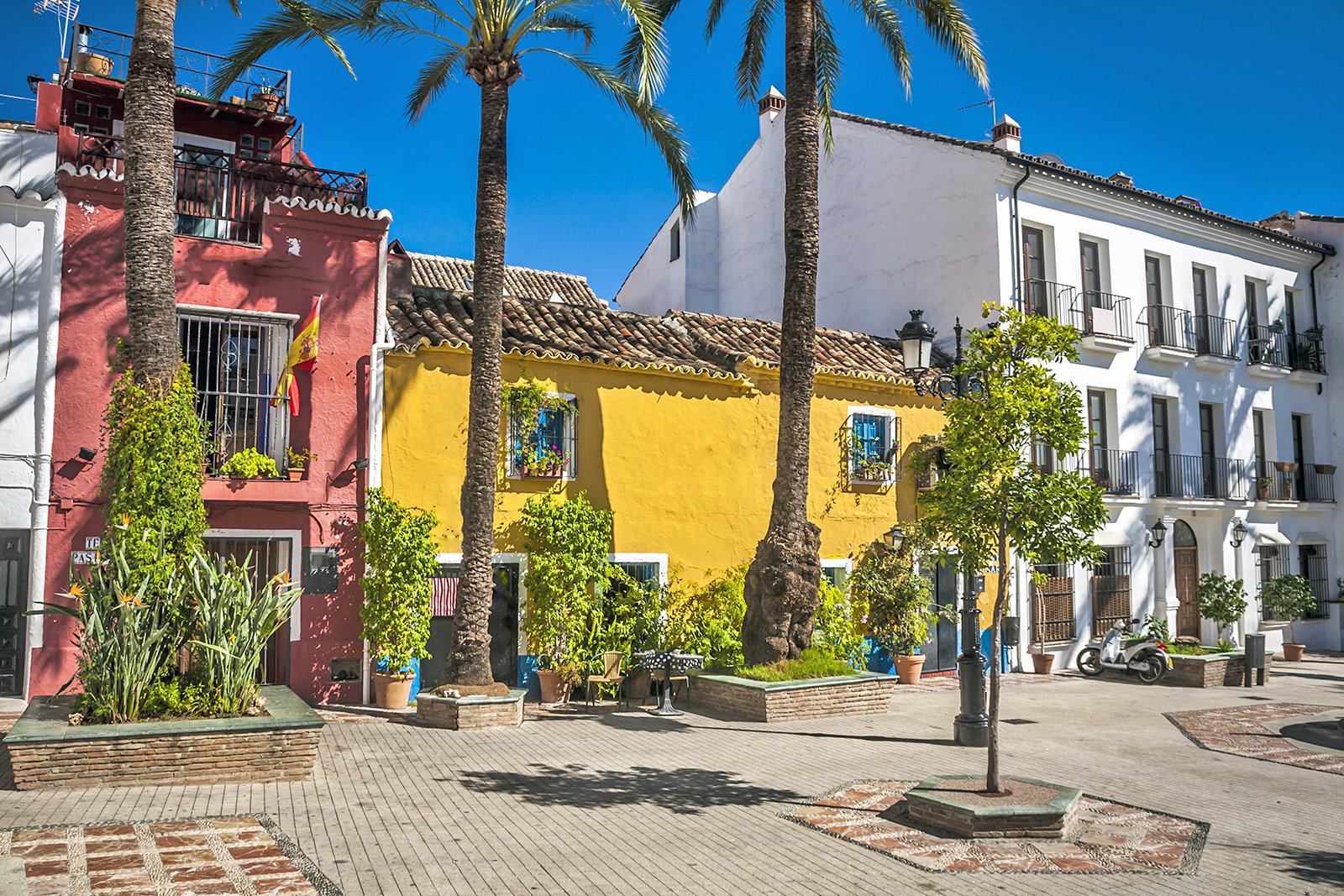 Must See: Marbella Old Town
Lose yourself in a flowery vintage district
Named Casco Antiguo de Marbella (Ancient District of Marbella) in Spanish, Marbella Old Town dates back to the 15th century, right after the Christian Reconquista. Featuring winding streets, typical Andalusian houses with balconies decorated with fresh flowers, historic buildings and a great choice of cool restaurants and small boutiques, the Old Town offers something to see and enjoy at every corner. Colourful and tidy, Marbella Old Town has a warm and pleasant atmosphere.
الموقع: Just north of the Alameda Park in the city centre
الأزواج
العائلات
الطابع التاريخي
الميزانية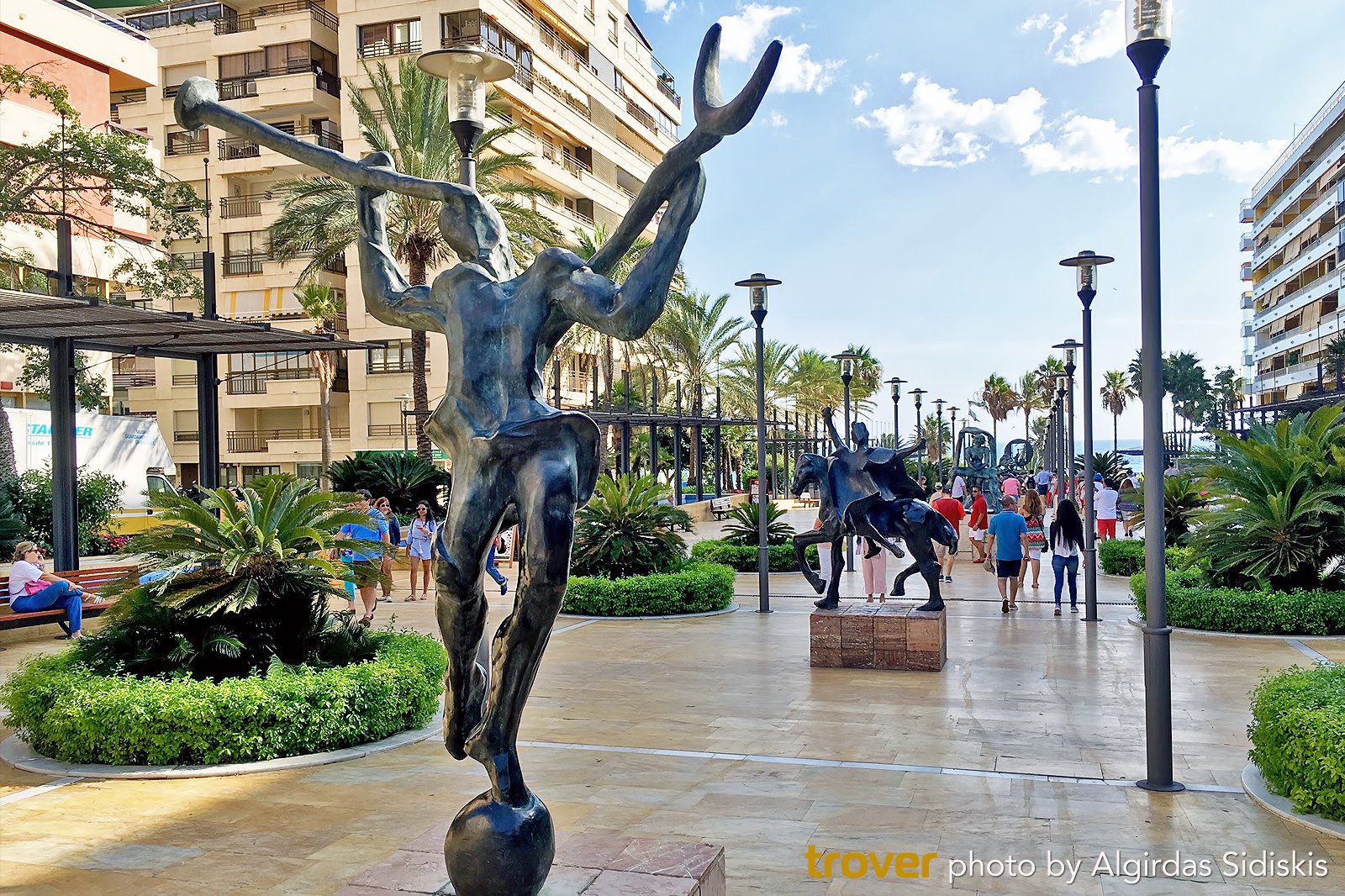 Take a Break on Avenida del Mar
Stroll on an outdoor museum-like walkway
Avenida del Mar (Sea Avenue) is a 5,500 sq m rectangular square that stretches between the Alameda Park and the beach, right next to Puerto Deportivo de Marbella, the oldest port of the city. Lined with shops, bars and restaurants with terraces shaded by wooden pergolas, Avenida del Mar is also an open-air museum, home to 10 Salvador Dali sculptures. Take a refreshing drink at one of the restaurants and watch the world go by.
الموقع: Between Alameda Park and the beach, right next to the Old Port of Marbella
الأزواج
العائلات
الصور
الميزانية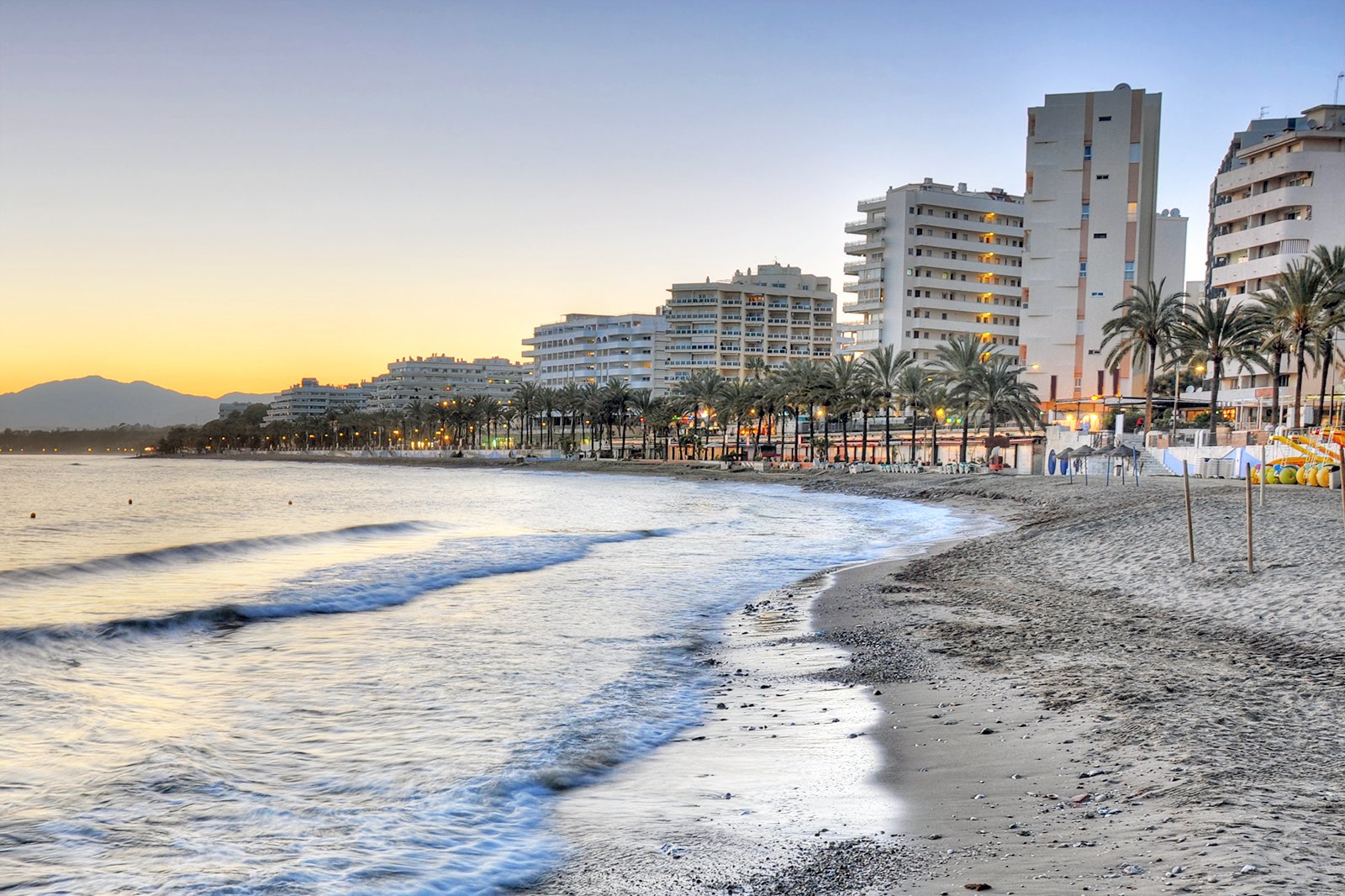 Work on Your Suntan at Bounty Beach
Laze in the sun on the closest beach to Marbella Old Town
Bounty Beach is one of the hippest beaches in Marbella. Located just east of La Bajadilla Marina, its real name is Playa del Cable, but it owes its nickname to one of the chiringuitos (beach restaurants) established on its 1,500-metre length. Cleaned regularly, it's relatively quiet until the end of the afternoon, when it comes alive with joggers, volleyball players and water sports enthusiasts. The beach restaurants are affordable and public toilets and showers are available. It stays busy until late at night.
الموقع: 1.4 km east of the Old Port of Marbella
الأزواج
العائلات
الطابع التاريخي
الصور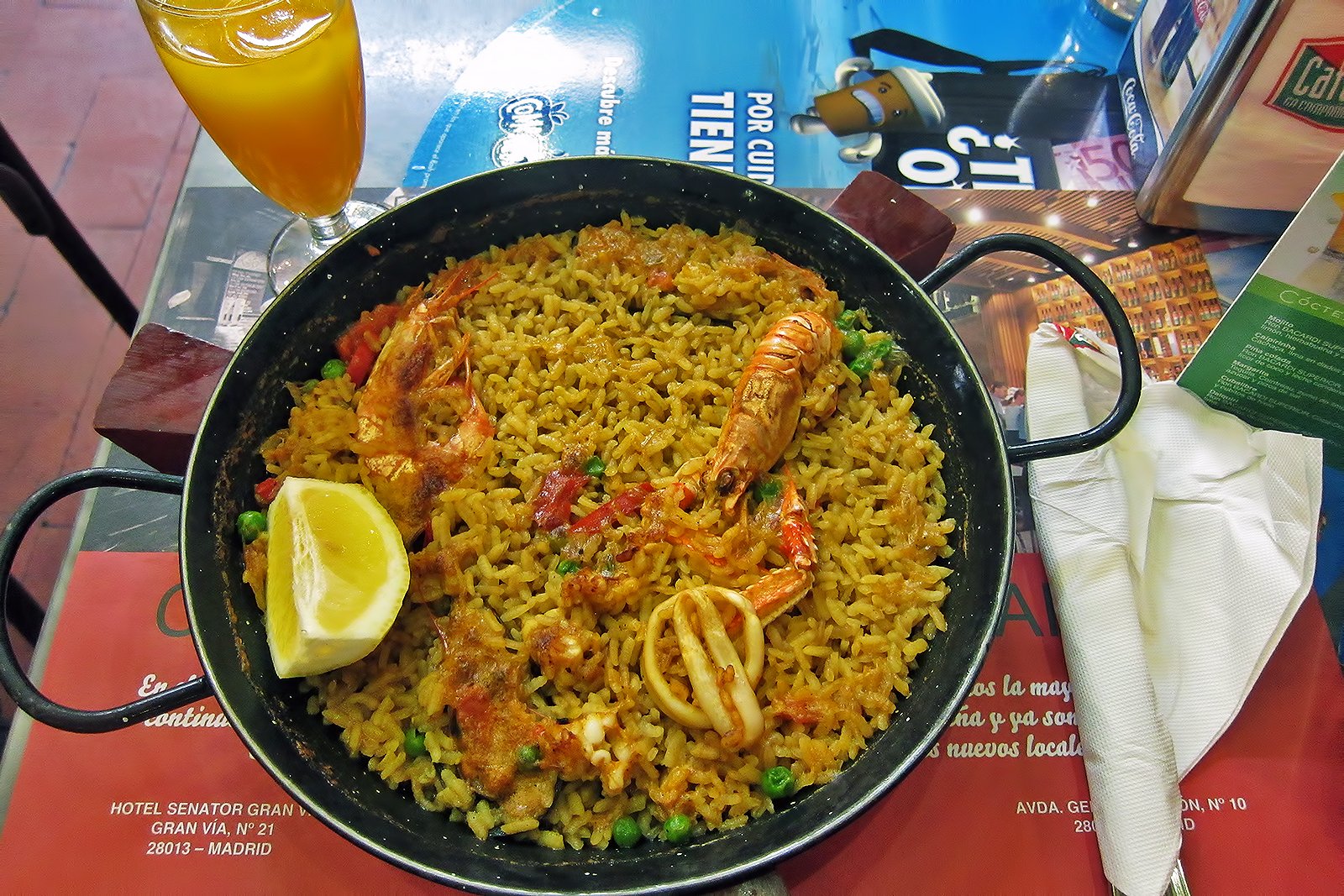 Eat Paella in the Old Town
Sample one of the most iconic Spanish dishes
Originally from the region of Valencia, paella is one of the most iconic Spanish dishes. Roughly based on rice, saffron, meat, seafood and vegetable, with slight variations in the recipe depending on the region of Spain it's prepared, you can't leave Marbella without sampling the flavourful local dish.
Head to Marbella Old Town to enjoy a great paella, available in most restaurants. Among the best are Tempora Restaurante on Calle Tetuán, Restaurante El Cortijo on Calle Remedios and El Patio De Mariscal on Calle Virgen de los Dolores.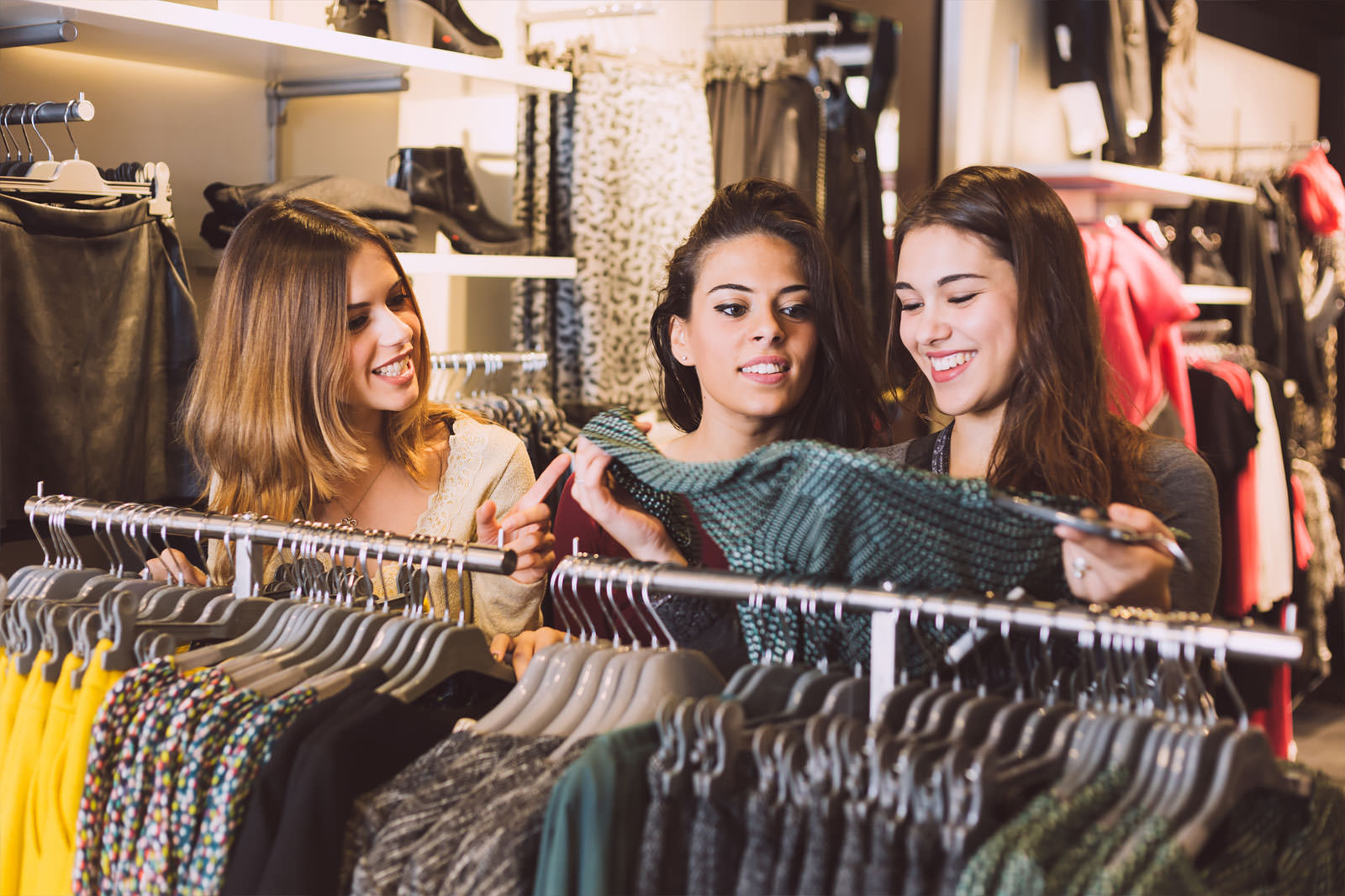 Shop at La Cañada
Browse through the gigantic shopping centre
Locally known as Parque Comercial La Cañada, this is a huge shopping complex just a 5-minute drive northeast of Marbella Old Town. Covering a plot of something like 100,000 sq m, you'll find over 300 shops including a large supermarket and international brand stores such as Zara, Geox and Hugo Boss, just to name a few.
The complex doesn't lack of dining opportunities and leisure entertainment options. There's a movie theatre and children playgrounds, which make good ways to enjoy rainy days.
الموقع: 1.5 km northeast of Marbella Old Town
أوقات العمل: Monday – Saturday from 10am to 10pm, Sunday from 10am to 5pm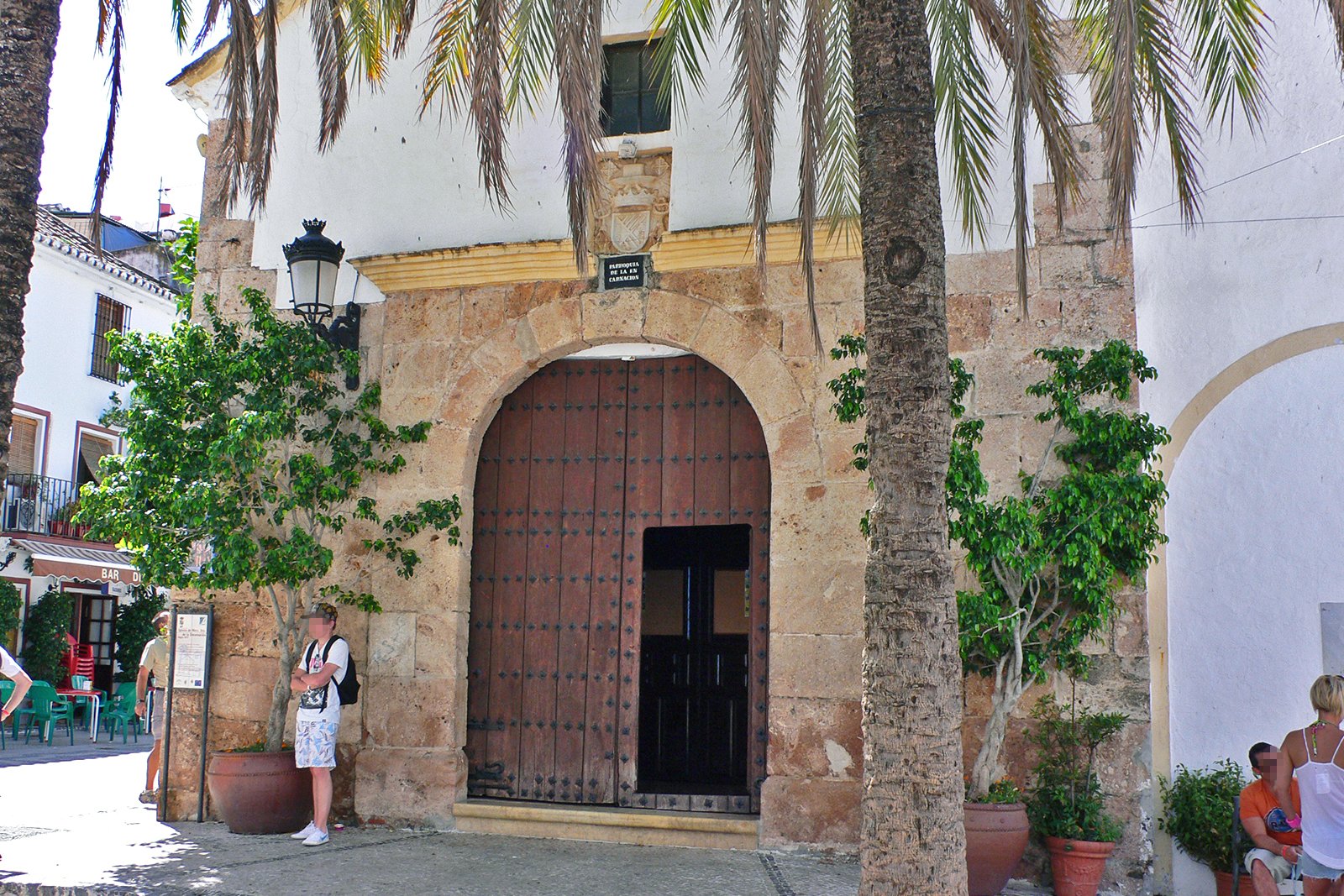 Must-Visit: Church of Our Lady of the Incarnation
Stop by the 'Cathedral of Marbella'
Located a 2-minute walk southeast of Plaza de los Naranjos, in Marbella Old Town, the Church of Our Lady of the Incarnation is a majestic white building that dates back to the 17th century. Also called the 'Cathedral of Marbella', it's nicely ornamented with paintings and statues, and the Rococo sculpted front door's frame is worth special attention.
The square on which the church sits offers a pleasant seating area in the shade. It's a cool place for a break while you stroll the Old Town, with the church making a brilliant backdrop.
الموقع: Just southeast of Plaza de los Naranjos
أوقات العمل: Monday – Saturday from 8am to 10pm, Sunday from 9.30am to 10pm
الأزواج
العائلات
الطابع التاريخي
الصور
الميزانية
الصورة من تقدمة Heather Cowper (CC BY 2.0) معدّلة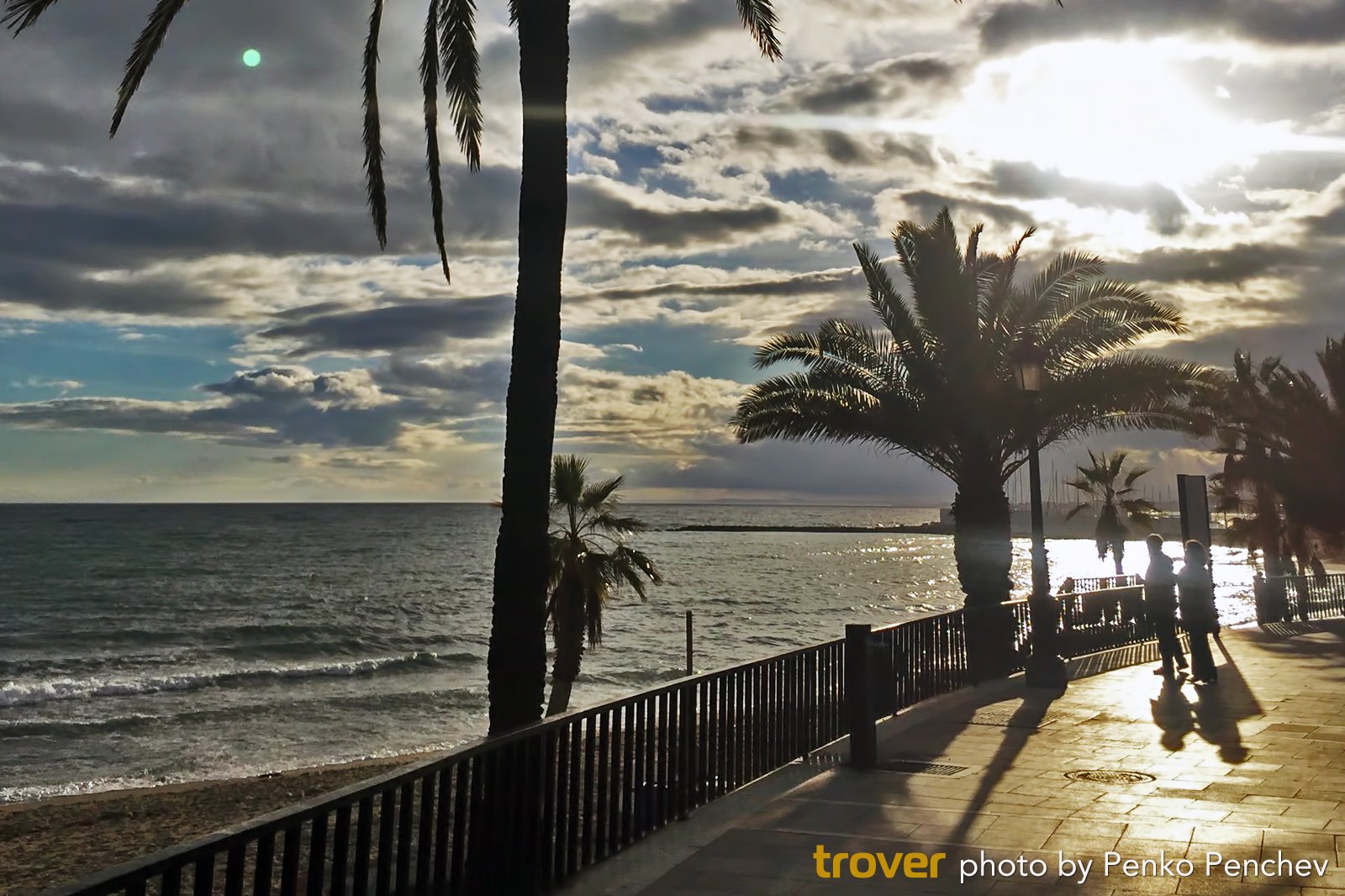 Stroll along Paseo Maritimo
One of the liveliest areas in Marbella
Also known as Marbella Promenade, Paseo Maritimo is a seaside walkway that stretches for almost 7 km between Puerto Deportivo de Marbella and Puerto Banús. It's a lovely pathway to stroll, lined with boutiques, tapas bars and restaurants for all budgets. It's also shaded, in some parts, by palm trees. One of the busiest areas of the city, it features street musicians and other performers during summer.
It roughly takes 2 hours to walk the entire Paseo Maritimo. Along the way, you'll come upon landmarks such as Marbella Lighthouse and a great view from near Hotel Puente Romano of Gibraltar and the African coast in the distance.
الموقع: Between Puerto Deportivo de Marbella and Puerto Banús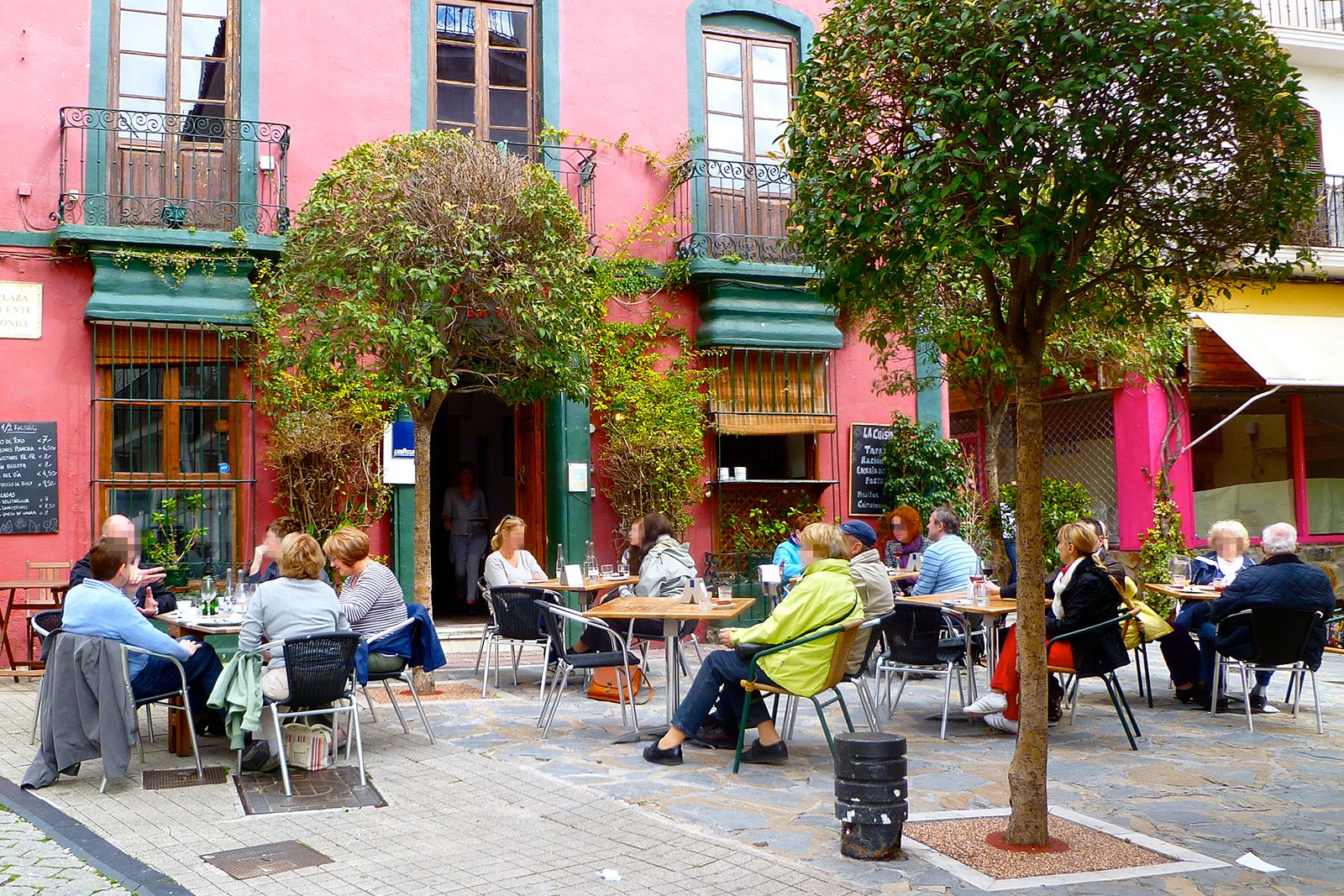 Dine on Tapas and Sangria in the Old Town
Get into the Spanish mood and enjoy local finger food
Tapas may just be appetizers, but you can make your own meal on these flavourful snacks that go from Calamares (battered squid rings) to Croquetas (bread-crumbed fried meat and mashed potatoes), among others. This finger food can be enjoyed with wine or beer, but you should get into the Spanish mood and accompany them with sangria (red wine and chopped fruits).
Some of the recommended venues to sample tapas and sangria in Marbella Old Town include Arco Tapas Bar on Calle Peral, Bar El Estrecho on Calle San Lázaro and Taberna Tierraranda, also on Calle San Lázaro.
الصورة من تقدمة Herry Lawford (CC BY 2.0) معدّلة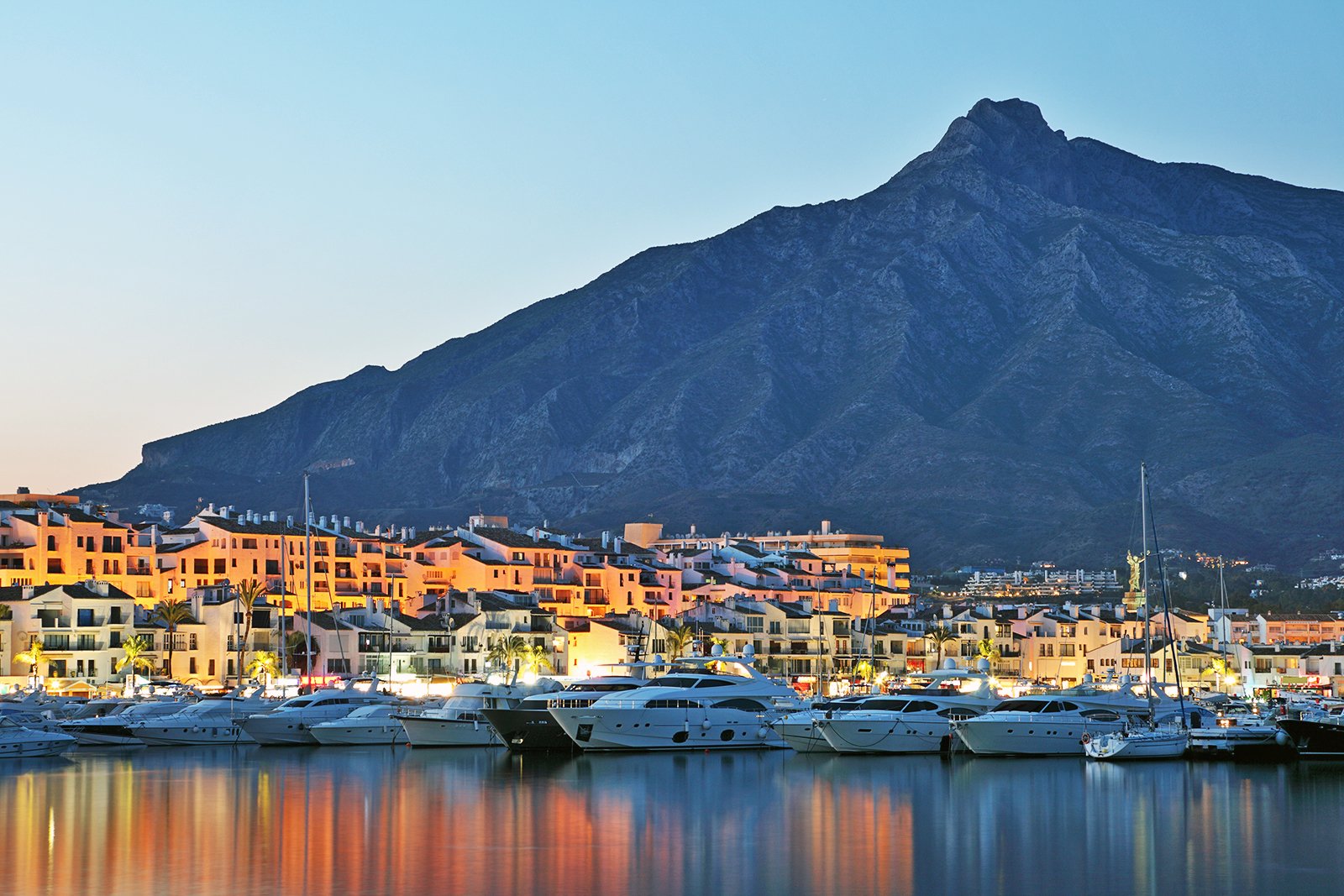 End the Day at Puerto Banús Marina
Party like a rockstar in one of Marbella's hottest night spots
Located 7 km west of the Old Town, at the other end of Paseo Maritimo, Puerto Banús is an upscale marina lined with stylish bars and clubs. You'll likely spot celebrities in famous venues such as Pangea and Sinatra's, and you can dance the night away in sophisticated nightclubs like Aqwa Mist and Kube, just to name a few.
Besides these posh venues, Puerto Banús also hosts a fair deal of more affordable bars and clubs, including the cool and long-established O'Grady's Irish Pub and Joy's Live Pub.
الموقع: At the western end of Paseo Maritimo